Watch How 'Game Of Thrones' Visual Effects Have Evolved Over Five Seasons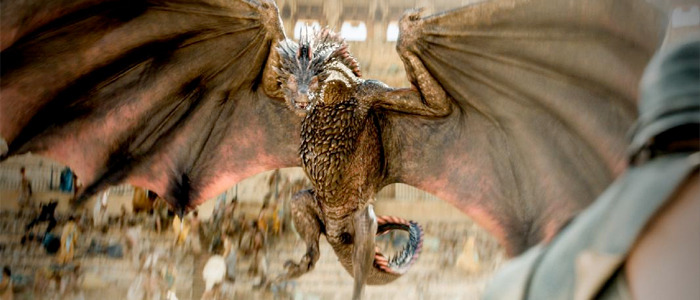 It's no secret that the visual effects of feature films are usually vastly superior to that of television. The budget for feature films is infinitely bigger, and television shows have much less time to finish visual effects in post-production since they're on a much tighter schedule and last much longer than movies.
However, when a show becomes successful, that means more money can be spent to make it look better and better, and in the case of Game of Thrones, things have clearly improved over five seasons. A new video explores the evolution of visual effects on the HBO fantasy series, and it's not hard to see how much better they are now.
Watch the evolution of Game of Thrones visual effects after the jump!
This comes just after we highlighted a visual effects breakdown of the fifth season episode "Hardhome," which featured a bunch of white walkers and plenty of other invisible visual effects. But this new video explores things like dragons, the Battle of Blackwater and also countless set extensions, a practice so common on movies that you wouldn't even realize it happens most of the time. Some of these effects are better then what we see in some movies.
Thanks to io9 for putting this analysis of the Game of Thrones visual effects together, with input from visual effects supervisor Joe Bauer. It joins a slew of goodies for fans who will patiently have to wait over the next year for the sixth season of the series based on George R.R. Martin's books.
Other fun treats for fans include the Comic-Con 2015 panel with a slew of cast members from Westeros, an amusing audition reel showing how some of them got the parts they're now known for, and also some potentially disturbing news for fans hoping that a certain character will come back from the dead after perishing this past season.