Brian Henson Gets Another Shot At Dark Puppet Comedy 'The Happytime Murders'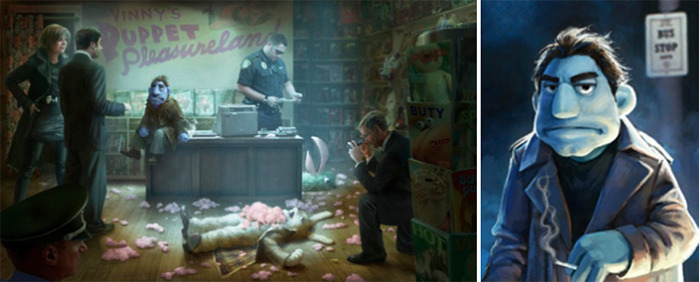 Brian Henson, son of the late Jim Henson, is getting another chance to make a darkly comic puppet noir called The Happytime Murders. The story, which is designed as something like an LA Confidential-type riff on The Muppets, or a Muppet equivalent of Who Framed Roger Rabbit?, with a human and puppet detective team investigating the murders of former cast members of a kids' TV show.
Now, after a few fallow years for the project, the relatively new studio STX Entertainment has just partnered with the Jim Henson Company to develop the story anew as a big-screen outing.
THR reports, suggesting that the title may end up being changed. Brian Henson is still attached to direct, and the latest script is by Erich Hoeber and Jon Hoeber, who wrote Red, and Red 2. (Prior drafts were from Todd Berger and Dee Robertson.)
This is the description of the 2012 version of the script, which may have changed somewhat now that there are new writers:
In a world where puppets co-exist with humans as second class citizens, puppet private eye and disgraced ex-cop, Phil Phillips, is hot on the trail of the serial killer who murdered his brother and is now targeting the cast members of the famous 80s television show, "The Happytime Gang." As the killings continue, Phil's former flame, Jenny, is next on the list. It's up to Phil and his ex-partner, Detective Edwards, to find the culprit, but as bad blood and old resentments resurface the clues start pointing to the only viable suspect, Phil himself. Now he's on the run with only his wits and hard headed determination, as he tries to solve The Happytime Murders.
One of the problems with making this film several years ago, when it was set up with Lionsgate, had to do with getting the human co-stars for the film. But that was before the success of projects that cross over between genres and traditional old and young audiences. Basically, it might be a lot easier to find people game for a film like this now, assuming the script is solid. Since work has been done on it since we last checked in, that stands now as one of the big questions for the film.