LOL: Director Of Chinese 'Cars' Knock-Off Claims He's Never Seen Pixar's Film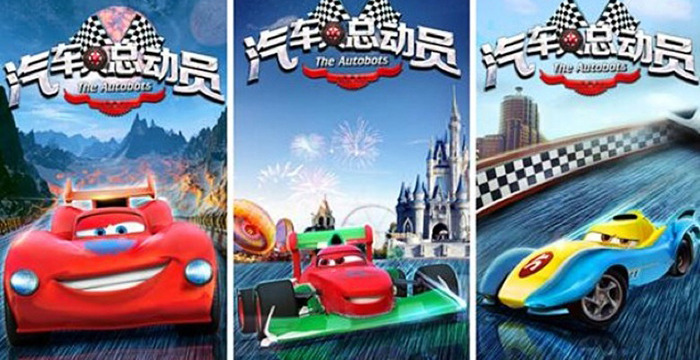 So there's an animated Chinese film called The Autobots that looks to be, not a Transformers movie, but a thinly-veiled copy of Pixar's Cars. Very thinly veiled. That's some of the key art for the film, above.
The movie opened in China over this past weekend, and despite the fact that the past month has seen a lot of reporting on the fact that the movie is an obvious Pixar knock-off, audiences there are still complaining about being taken in by the feature.
Now the Cars knock-off director claims he's never even seen Pixar's movie. But that's not even the reason this is funny. The funny bit is that we've already seen this argument with Pixar's Cars before, only last time it was Cars that was being dinged for borrowing from another movie.
CNN reached Zhuo Jianrong, the director of The Autobots, and executive director of the film production company that made the film. He called the movie "independently produced" and "original," and insisted "I know of the movie 'Cars', but I have never seen it. I don't even know the names of its characters."
Zhuo, in part, seems to be arguing that some slack should be cut to domestic productions in China, which don't have the resources of a film from Pixar.
We hope people can be more tolerant, as Chinese animation just started not long ago, and is nowhere near the Hollywood productions... I can only say we learned from Disney, but we would never copy.
Perhaps Zhuo's legal reps should have simply advised him to break out the Doc Hollywood defense. Cars bears enough of a story resemblance to the Michael J. Fox comedy that it has repeatedly faced accusations, albeit none serious enough for court, claiming that it lifts its story and even some characters from Doc Hollywood.
But at least the resemblance between those two films stopped at story. Check out these shots from The Autobots, via Kotaku, and see if the "we learned from Disney but didn't copy Cars" excuse is even vaguely compelling.