'Daredevil' Casts Élodie Yung As Elektra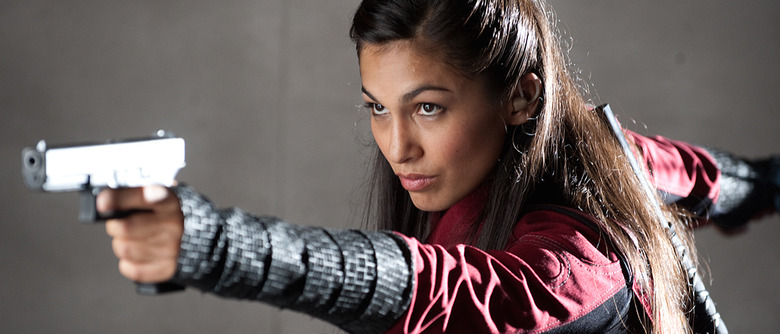 As if Daredevil doesn't have enough on his plate already for Season 2, what with the Punisher (Jon Bernthal) riding into Hell's Kitchen, he'll have Elektra to contend with as well. Élodie Yung (G.I. Joe: Retaliation) has just been cast as the mysterious figure for Season 2 of the Marvel / Netflix series. More on the Daredevil Elektra casting after the jump. 
Marvel announced the news today. Although Elektra was referenced in Season 1, Season 2 will be her formal introduction to the Marvel Cinematic Universe. The studio describes her as "a mysterious woman from Matt Murdock's past whose dangerous and exotic ways may be more than he can handle."
Executive producer and Marvel TV head Jeph Loeb sang Yung's praises in a statement:
After a worldwide search, we found in Elodie the perfect actress to embody both Elektra's impressive and deadly physicality, as well as her psychological complexity. Paired with Charlie as Matt Murdock, the two will bring one of the most beloved and tumultuous comic book relationships to life with all the accompanying sparks and spectacular action sequences the show is known for.
Yung is a French actress best known in the U.S. for playing Jinx in 2013's G.I. Joe: Retaliation. As pointed out on Twitter, the casting is pretty perfect — if maybe not super imaginative.
Elodie Yung, best known to fanboys for playing a sexy red-clad ninja in GI Joe 2, will play a sexy red-clad ninja in Daredevil Season 2

— Jim Vejvoda (@JimVejvoda) July 7, 2015
Back in 2013 we heard Yung was testing for Batman v Superman: Dawn of Justice (probably as Wonder Woman). That didn't work out, obviously, but Elektra seems like a pretty sweet consolation prize.
Elektra previously appeared in the 2003 feature film Daredevil, where she was played by Jennifer Garner. She got her own spinoff movie in 2005, but tanked so badly it still gets referenced in arguments about whether a female superhero movie could ever work.
Daredevil Season 2 brings back Charlie Cox as the blind superhero, as well as Elden Henson, Deborah Ann Woll, and Rosario Dawson. Shooting is underway in New York now for release in 2016.