Dark Horse Comics Bringing 'Umbrella Academy' And 'Concrete' To TV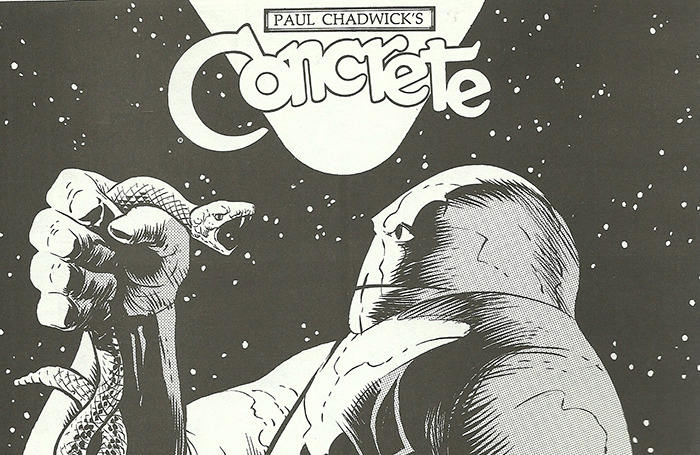 Dark Horse Comics and Universal Cable Productions (Mr. Robot, The Magicians) have made a deal to turn a bunch of Dark Horse titles into TV shows. One of the first developments is based on one of the very first Dark Horse Comics. That title is Concrete, created, written and drawn by Paul Chadwick, which tells a story that is basically "what if The Thing lived a non-superhero life?"
Other series in the lineup include Harrow County, Back Up, and The Umbrella Academy, the Gerard Way comic that was previously in development as a feature at Universal.
This deal between Dark Horse and UCP will encompass new material as well as "scripted programming from [Dark Horse's] extensive comic book library." Maybe we'll get a series based on Matt Wagner's Grendel eventually. Wouldn't that be great?
For now, the four projects mentioned above are in development as shows. For me, Concrete, which was a critical success when originally published in the mid-'80s, but always sort of a niche book, seems like the most unusual and potentially significant. The lead character of Concrete is a regular guy whose mind is transferred by aliens in to a giant stone body. But that conceit is really where Concrete's "comic book" angle ends. The stories are really about trying to live a regular life despite his unusual form. Some of the Concrete stories are really excellent, and I'm excited to see how it becomes a TV series.
Here's a list of the Dark Horse and UCP development slate.
Harrow County – Emmy has always known that the deep, dark woods surrounding her home crawled with ghosts, goblins, and the restless dead. On the eve of her 18th birthday, she learns that she is connected to these creatures and to the land itself in a way she never imagined, for she is the reincarnation of a powerful witch who was put to death on the very day Emmy was born. For this reason, the townsfolk mean to kill her too. In order to survive, Emmy must embrace the unusual powers at her command. This project is based on the brand new book written by Cullen Bunn ("The Damned," "The Sixth Gun") and illustrated by Tyler Crook ("Bad Blood").
The Umbrella Academy – Nine years after parting ways, the estranged members of the Umbrella Academy, a dysfunctional family of superheroes with bizarre powers, must figure out how to work together to save the world. Created by Gerard Way (lead singer of "My Chemical Romance," and writer of "The True Lies of the Fabulous Killjoys") and Gabriel Ba (Daytripper); Bluegrass films is also attached to executive produce.
Back Up – In the near future, a new technology allows people to be backed up the same way we now back up our computers—but instead of protecting against drive failure, these backups protect against death. This project is based on a feature script by Tom Vaughn. Kenny Golde is set to write and executive produce, Brad Anderson ("Zoo", "Almost Human") is in negotiations to direct. Jim Wedaa is also attached to executive produce.
Concrete – After his subconscious is transplanted into a hulking stone body, Ronald Lithgow must come to terms with his new form and try to live a normal life. This Eisner award-winning title is the opus of comics legend Paul Chadwick.