Paul Feig's 'Ghostbusters' Casts Neil Casey As Villain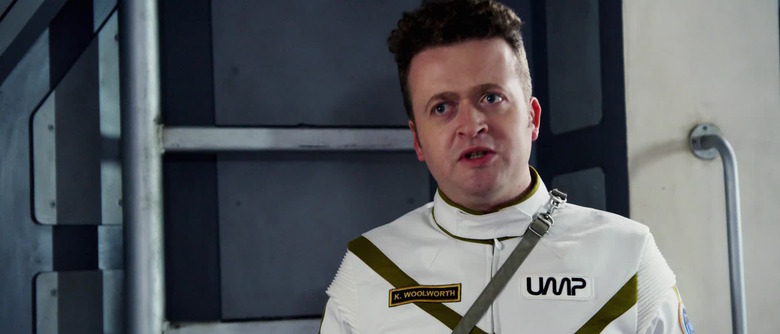 Paul Feig's Ghostbusters already has four fantastic heroes lined up, in the forms of Kristen Wiig, Melissa McCarthy, Kate McKinnon, and Leslie Jones. But a hero is nothing without a villain, so now Ghostbusters has picked up one of those as well. Neil Casey has just been cast as Rowan, the main antagonist of the film. Read all about the Ghostbusters Neil Casey news after the jump.
Deadline reported on the Ghostbusters Neil Casey casting. Details on his character are being kept under wraps for now. However, earlier reports indicated that the main villain of Ghostbusters would be a "creepy mechanical genius." Peter Dinklage was on the wishlist for the part way back when.
Written by Feig and Kate Dippold, Ghostbusters centers around four New York women who team up to fight spirits and save the world. Wiig and McCarthy are former partners Erin and Abby, who reunite after several years when the former is laughed out of academia. McKinnon is McCarthy's new partner Jillian, and Jones is New York City subway worker Patty.
Also in the cast are Chris Hemsworth as the Ghostbusters' receptionist, Kevin. Andy Garcia portrays the mayor of New York City. Michael K. Williams and Matt Walsh play Hawkins and Rourke, respectively. New York City's NY1 morning anchor Pat Kiernan will appear as a news anchor. Cecily Strong is also said to be part of the cast.
Though not as famous as some of his co-stars, Casey has a long list of credits in the comedy world. He's written for Saturday Night Live (where several of his Ghostbusters co-stars broke out), Inside Amy Schumer, and The Kroll Show, and appeared in shows like Veep, Broad City, Playing House, and The League. He currently stars in the Yahoo! original series Other Space, which is produced by Feig.
Shooting on Ghostbusters is currently underway in Boston. Sony has the film in theaters July 22, 2016.
This is what I mainly know Casey from, and he's perfect in it: