James Bond Musical Aims To Hit Broadway In 2017 Or 2018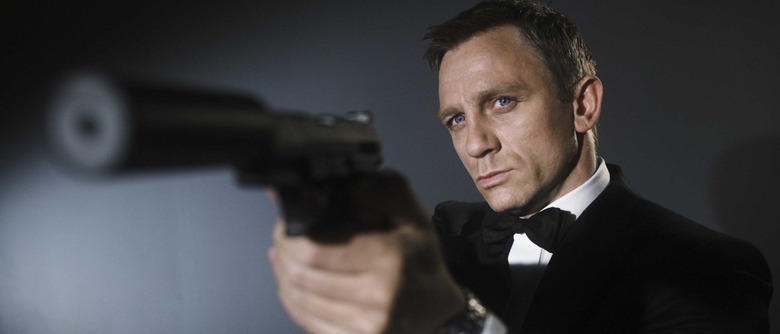 007's next jetsetting adventure could bring him all the way to Broadway. A James Bond musical is reportedly in the works, and could hit the stage as early as 2017. The show will bring back classic villains and introduce some new ones, as well as a new Bond girl. More details on the James Bond musical after the jump. 
Playbill got word of the James Bond musical from executive producer Merry Saltzman, whose company Placeholder Productions has picked up the rights to mount a James Bond stage show. Saltzman is the daughter of Harry Saltzman, the movie producer who brought James Bond out of the pages of Ian Fleming's books and onto the silver screen.
Simply titled James Bond: The Musical, the show will have a book by novelist Dave Clarke (Keeping Hannah Waiting) and music and lyrics by country composer Jay Henry Weisz. No actors have been announced.
Plot details are being kept under wraps but Saltzman says the James Bond musical will have an original storyline featuring "several Bond villains, plus some new ones" and "our own Bond girl." Anyone who's ever seen a Bond movie can probably fill in some of the other details: a globe-trotting adventure, an evil plot, beautiful women, and lots of martinis.
Fleming first debuted 007 in his 1953 novel Casino Royale, and went on to write about a dozen more books about him. Other authors continued Bond's adventures after Fleming's death, and the character has also been adapted for TV, film, comics, and video games. However, James Bond: The Musical will mark the first major stage production about the character.
According to Saltzman, "production schedules and trial runs are still being worked out" for James Bond: The Musical. However, the goal is to debut James Bond: The Musical on Broadway or in Las Vegas, at a venue yet to be announced, in late 2017 or early 2018.