Cool Stuff: Custom Mini 'Jurassic Park' LEGO Set Is Adorable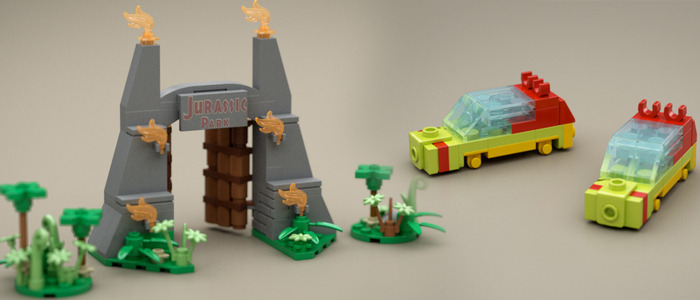 Since Jurassic World got everybody talking about Jurassic Park all over again, we've seen some pretty cool custom LEGO creations hit the web, hoping to one day become real sets. There's an awesome LEGO version of the visitor center from the first movie we featured, and sets for the iconic Ford Explorer and new Indominus Rex from Jurassic World too.
But since these sets aren't always easy to get approved, sometimes because of their lack of wide appeal to a variety of LEGO consumers, other times because of licensing or potential pricing, one LEGO builder has created a microscale Jurassic Park LEGO set that could be affordable and appealing. Check out the mini Jurassic Park LEGO set below!
Here's the microscale Jurassic Park LEGO set from LEGO Ideas:
The creation actually stems from LEGO Ideas user "senteosan," and they just happen to be the same builder responsible for the aforementioned Jurassic Park LEGO sets we've featured on the site before. It sounds like he's desperate to get some Jurassic Park LEGO sets out on shelves, and I don't blame him at all.
If it's not possible to get the larger LEGO sets approved, I'd be fine for settling with this microscale project that gives us the Jurassic Park gate, Ford Explorer, visitor center, Jeeps, raptor enclosure, T-rex paddock, helicopter and brontosauruses. Oh, and as you can see, there's also adorable little microscale minifigures as well. They're not as cool as normal minifigures, but they're still pretty cute, like a cat sitting on a pizza. However, the builder does want to include three normal size minifigures of Dr. Alan Grant, Dr. Ellie Sattler and Dr. Ian Malcolm.
You can throw your support behind this project at LEGO Ideas right now (just vote at the project page here) if this is something you think that you'd like to buy some day. Otherwise, we may never see this become a reality. But then again, as Ian Malcolm so eloquently put it, life finds a way.