Exclusive 'The Tribe' Poster From Mondo And Artist Alan Hynes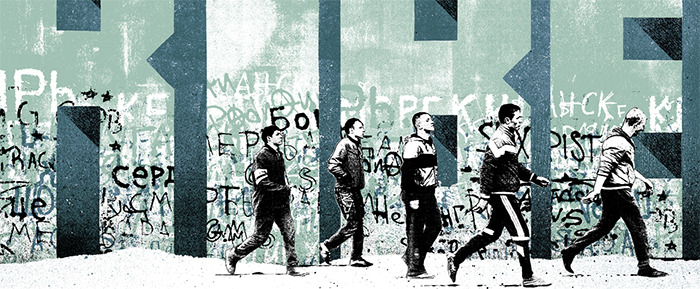 The Tribe is a very unique film. It's the story of a deaf young man who moves into a new boarding school for the deaf, only to be pulled into the criminal activities organized by a student gang. The film has no spoken dialogue as the characters communicate entirely through Ukranian sign language, which is not subtitled or translated. Watching this film is indeed a demanding experience, but it is one that left me thinking about the movie for months afterward.
Now, Austin, Texas-based poster house Mondo will soon release a new way to keep the film in mind. A poster, The Tribe by artist Alan Hynes. Check out the full design and get all the specs and on-sale info below.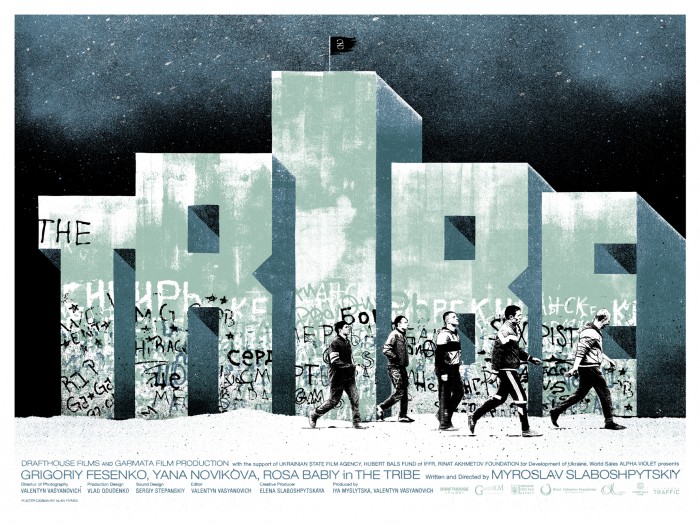 Here's all the info on the screenprint The Tribe by Alan Hynes.
24"x18"Edition of 75Printed with metallic inks$35
On sale 7/14 at a random time
Follow @mondonews on Twitter for on sale info.
Here's the trailer for The Tribe.
The Tribe is in some theaters now, and will continue to play new theaters throughout the summer. Check the Drafthouse Films site for more dates.
Teenage Sergey (Grigoriy Fesenko), a new student at the boarding school, realizes immediately that he must prove himself worthy to be brought under the protective wing of the school gang's leader to survive unscathed. After an indoctrination of harmless initiation pranks and rites, Sergey's new-found clique soon introduces him to their common activities of robbery, bribery and prostitution. At first assimilating seamlessly into his new role in the tribe, he finds himself compromised as he begins to fall in love with his female classmate—and one of the gang's escorts—triggering a sequence of stunningly diabolical events.