More 'Deadpool' Images: Deadpool And Negasonic Teenage Warhead Cab Around Town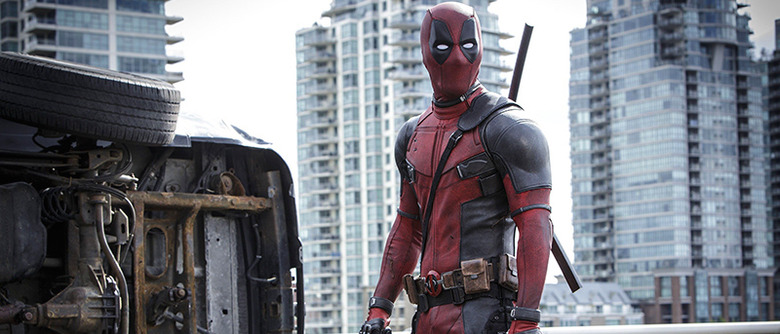 The last Deadpool still showed the Merc with the Mouth doing the typical comic book character thing. He's loaded with weapons, surrounded by the aftermath of some violent incident.
But the latest Deadpool images show our profane antihero enjoying some of the simpler pleasures in life. Like taking in some art. Or cabbing around town with his BFF, Negasonic Teenage Warhead (Brianna Hildebrand). See more Deadpool images after the jump.
Empire and EW revealed the new Deadpool images.
Star Ryan Reynolds shared the first photo of Hildebrand as Negasonic Teenage Warhead back in April. There as here, she looks utterly unimpressed by this colorful weirdo next to her, in the way that only a surly youngster who calls herself Negasonic Teenage Warhead can be. As for the other photo, it looks like Deadpool's got his hands on some comic book-style drawing, but the contents are hard to make out.
Deadpool promises to be a bit different in terms of tone than most other superhero movies. That includes the rest of Fox's own X-Men universe. Producer Simon Kinberg promised Deadpool would be a "hard R," "truly outrageous boundary-pushing kind of movie," and director Tim Miller referenced Fight Club in his description of the film.
That should be great news for fans of the character, who's famous for his off-kilter outlook and twisted sense of humor — and who displayed little of either trait in X-Men Origins: Wolverine, much to everyone's disappointment.
Deadpool lands in theaters February 12, 2016. Also starring are T.J. Miller as Weasel, Gina Carano as Angel Dust, Morena Baccarin as Copycat, and Ed Skrein as Ajax.
Based upon Marvel Comics' most unconventional anti-hero, DEADPOOL tells the origin story of former Special Forces operative turned mercenary Wade Wilson, who after being subjected to a rogue experiment that leaves him with accelerated healing powers, adopts the alter ego Deadpool. Armed with his new abilities and a dark, twisted sense of humor, Deadpool hunts down the man who nearly destroyed his life.