Great New 'The Hateful Eight' Image Has Snow, 'Stache, And The Stagecoach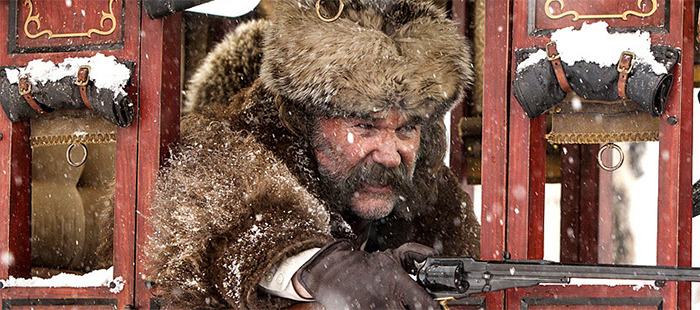 Quentin Tarantino is bringing his new film The Hateful Eight to Comic Con, which will mark the first time non-industry types have been able to see the movie in motion. Before we see that footage debut, however, a Comic Con preview offers up a great new still from the film, featuring Samuel L. Jackson, Kurt Russell, and Kurt Russell's amazing facial hair, which should probably get its own SAG card.
Check out the new Hateful Eight image below, and read a few comments from writer/director Tarantino.
EW has this pic (click to enlarge), which shows, among other things, some great details on the stagecoach that carries the characters to a remote location, where they're forced to take shelter to wait out a blizzard.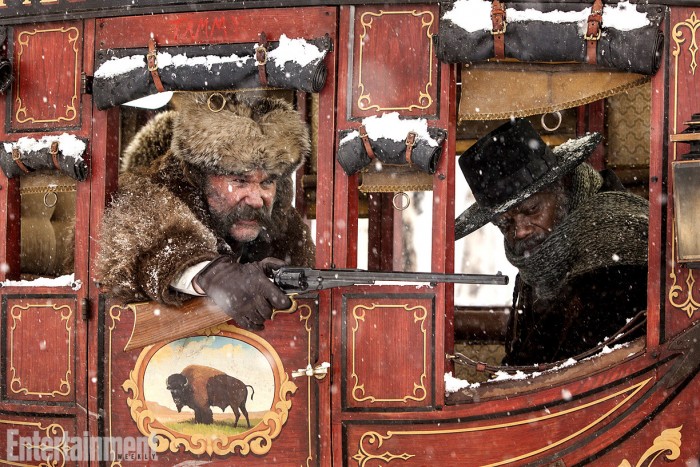 In the accompanying article, Tarantino touts the film's sense of humor ("as bleak as our movie is, we are definitely the funniest snow Western ever made") and also says part of the inspiration for the film was the parade of morally uncertain guest characters on old TV westerns.
You wait the whole episode to find out, 'Are they a good guy or are they a bad guy?' So I thought, 'What if I did a story that was made up of nothing but those characters?' So there's no good guys. There's no Little Joe.
The Hateful Eight opens on Christmas Day 2015. The cast also features Jennifer Jason Leigh, Tim Roth, Walton Goggins, Demian Bichir, Michael Madsen, Bruce Dern, and Channing Tatum in a small role.
In The Hateful Eight, set six or eight or twelve years after the Civil War, a stagecoach hurtles through the wintry Wyoming landscape. The passengers, bounty hunter John Ruth (Kurt Russell) and his fugitive Daisy Domergue (Jennifer Jason Leigh), race towards the town of Red Rock where Ruth, known in these parts as "The Hangman," will bring Domergue to justice. Along the road, they encounter two strangers: Major Marquis Warren (Samuel L. Jackson), a black former union soldier turned infamous bounty hunter, and Chris Mannix (Walton Goggins), a southern renegade who claims to be the town's new Sheriff. Losing their lead on the blizzard, Ruth, Domergue, Warren and Mannix seek refuge at Minnie's Haberdashery, a stagecoach stopover on a mountain pass. When they arrive at Minnie's, they are greeted not by the proprietor but by four unfamiliar faces. Bob (Demian Bichir), who's taking care of Minnie's while she's visiting her mother, is holed up with Oswaldo Mobray (Tim Roth), the hangman of Red Rock, cow-puncher Joe Gage (Michael Madsen), and Confederate General Sanford Smithers (Bruce Dern). As the storm overtakes the mountainside stopover, our eight travelers come to learn they may not make it to Red Rock after all...