'Ant-Man' Viral Video Begins To Explore MCU Connections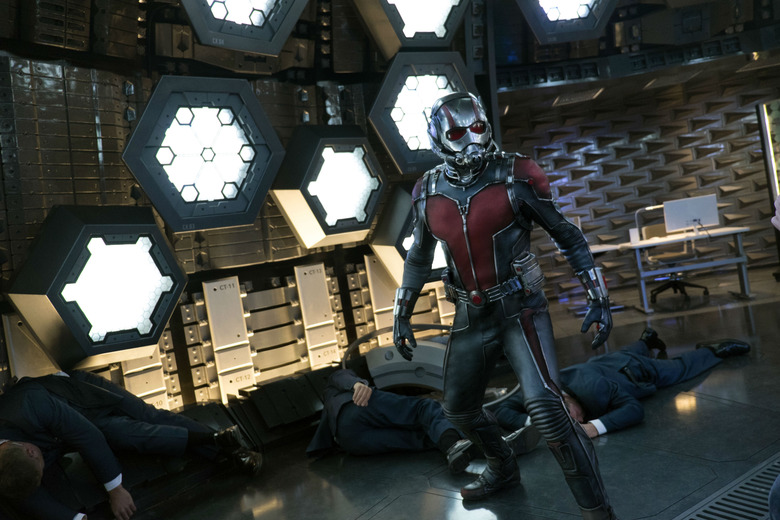 Marvel has cleared the hurdle of getting audiences to know who and what Ant-Man is; casting Paul Rudd in the lead role sure didn't hurt. Now, with the film a couple weeks away from opening, Marvel is starting some manner of viral campaign featuring videos that will put Ant-Man into context in the greater Marvel Cinematic Universe. The first one is out now, and you can check it out below.
Very minor spoilers for Ant-Man follow, mostly with respect to what isn't in the film.
What's going on there? Well, Sokovia is the site of much of the action in Avengers: Age of Ultron. There isn't much in Ant-Man to reference the events of Age of Ultron, but a couple lines of dialogue to set up an awareness of the big stuff that went down in Sokovia, and you will see a passing newspaper headline about Sokovia in the film.
And then the hints of backstory for Rudd's character Scott Lang start to fill in the gaps in our understanding of why he went to prison in the first place. That's something covered in the film (and early on, too) but this seems to be setting up some info for people to know what the deal is before they get into the theater. It also starts to establish that while Lang is an ex-con, he's not the really bad sort of criminal.
And that date mentioned as the prison release date for Scott Lang? Yeah, that's also the film's release date. We see what you did there, Marvel.
Directed by Peyton Reed, Ant-Man arrives in theaters July 17, 2015.
The next evolution of the Marvel Cinematic Universe brings a founding member of The Avengers to the big screen for the first time with Marvel Studios' "Ant-Man." Armed with the astonishing ability to shrink in scale but increase in strength, master thief Scott Lang must embrace his inner-hero and help his mentor, Dr. Hank Pym, protect the secret behind his spectacular Ant-Man suit from a new generation of towering threats. Against seemingly insurmountable obstacles, Pym and Lang must plan and pull off a heist that will save the world.
Marvel's "Ant-Man" stars Paul Rudd as Scott Lang aka Ant-Man, Evangeline Lilly as Hope Van Dyne, Corey Stoll as Darren Cross aka Yellowjacket, Bobby Cannavale as Paxton, Michael Peña as Luis, Judy Greer as Maggie, Tip "Ti" Harris as Dave, David Dastmalchian as Kurt, Wood Harris as Gale, Jordi Mollà as Castillo and Michael Douglas as Hank Pym. Directed by Peyton Reed and produced by Kevin Feige, Marvel's "Ant-Man" delivers a high-stakes, tension-filled adventure on July 17, 2015.