New 'Batman V. Superman' Photos: Lex Luthor With Hair, Gal Gadot As Diana Prince [Updated With High-Res Pics]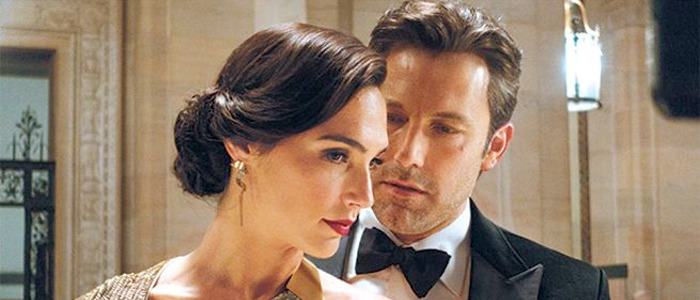 Comic-Con is nearly upon us, and you can bet Warner Bros. Pictures and DC Entertainment are going to bring out the big guns when they show off Batman v. Superman: Dawn of Justice in San Diego. Before that, the studio has released some new photos from the movie to hold fans over until the good stuff arrives next week.
The new photos from the first big-screen battle between The Dark Knight and The Man of Steel show us plenty of new stuff, including Jesse Eisenberg as Lex Luthor, but with a healthy mane of hair; a shot of Batman in his steel suit with the bat signal; Superman (Henry Cavill) being worshiped by a crowd; and a couple shots of Ben Affleck as Bruce Wayne, one of which also has Gal Gadot as Diana Prince. Check out the new Batman v Superman photos below!
Update: High-res versions of these photos have been released; you can see those below.
Here are the new photos from Entertainment Weekly:
EW even has word from Affleck about this iteration of Batman, comparing the role to that of Hamlet:
"We accept that he's played by actors with different interpretations. He's at the end of his run and maybe the end of his life. There's this sort of world-weariness to it...He's on the verge of being swallowed up by the anger and the rage that we see haunt this character in the other manifestations of it, but this guy is further down the line and has become more embittered and cynical."
And if you're expecting a sleek Wayne manor for Batman, it sounds like Bruce Wayne has stopped caring about his boyhood home. The magazine describes the mansion as "a desolate husk, overtaken by weeds and water-stains after years of neglect." Sounds like Batman has seen some better years, but this scuffle with Superman could bring him out of this funk.
As for Lex Luthor, is he wearing a wig as he's been known to do, or does he start off with a full head of hair and lose it/shave it off eventually? We'll have to wait and see. Meanwhile, it's nice to see an image of Gal Gadot in the movie, even though she's not suited up as Wonder Woman. We're still not sure how big her role will be, but at least we know we get to see her alter ego, Diana Prince, share some time with Bruce Wayne.
With the arrival of these new images, we can almost guarantee some new footage will be shown at Comic-Con next week, and there may very well be a new trailer that everyone will get to see online. We'll have all the latest on Batman v. Superman: Dawn of Justice, so stay tuned for more.
Fearing the actions of a god-like Super Hero left unchecked, Gotham City's own formidable, forceful vigilante takes on Metropolis's most revered, modern-day savior, while the world wrestles with what sort of hero it really needs. And with Batman and Superman at war with one another, a new threat quickly arises, putting mankind in greater danger than it's ever known before.
Directed by Zack Snyder, written by Chris Terrio, from a screenplay by David S. Goyer, the film is produced by Charles Roven and Deborah Snyder with Benjamin Melniker, Michael E. Uslan, Wesley Coller, David S. Goyer and Geoff Johns serving as executive producers.
Batman v. Superman: Dawn of Justice is set to open worldwide on March 25th, 2016.