'Roots' Remake Adds Laurence Fishburne As Alex Haley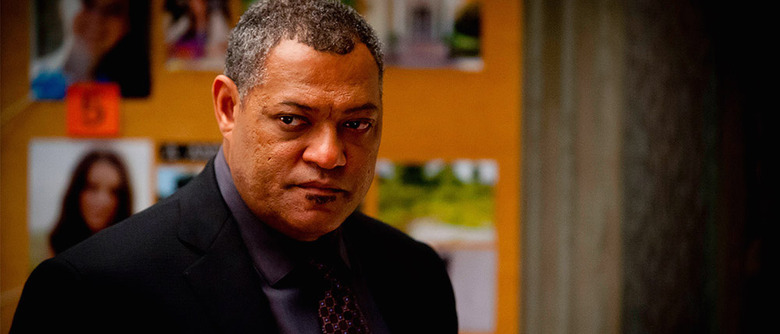 The Roots remake has found its first big star. Laurence Fishburne will portray author Alex Haley in A&E's upcoming event series, based on the 1976 book by the real-life Haley. James Earl Jones played the role in ABC's 1977 adaptation. More on the Laurence Fishburne Roots casting after the jump.
The new Roots is described as an "original, contemporary production" which supplements Haley's original novel with new historical research. It will also include material from Haley's book that didn't make it into the earlier TV miniseries.
Based on Haley's own family history, Roots follows a young man named Kunta Kinte who is abducted in 18th century Africa. He's brought to what is now the United States, where he's sold as a slave and, in an iconic scene, forcibly renamed Toby. The story follows Kunta and his descendants through such major events as the Revolutionary War, the Civil War, and the Emancipation Proclamation.
The original Roots miniseries was a massive critical and commercial success, which leaves the Roots remake (or re-adaptation, if you prefer) with an incredibly high bar to clear. Alex Haley wasn't a central character in the 1977 version, but Fishburne's casting nevertheless lends prestige to the new project.
He is an Oscar nominee for his performance as Ike Turner in 1993's What's Love Got to Do With It, an Emmy winner for the 1993 series Tribeca, and a Tony winner for a 1992 Broadway production of Two Trains Running. His other notable credits include the Matrix trilogy and Boyz n the Hood.
Fishburne currently co-stars in the ABC family sitcom Black-ish, and had a regular role on NBC's recently cancelled Hannibal. Next up for him is 2016's Batman v Superman: Dawn of Justice, in which he'll reprise his role from Man of Steel as Perry White.
Roots will be simulcast on A&E, History, and Lifetime in 2016. Will Packer (Straight Outta Compton) will executive produce with Mark Wolper, whose father David L. Wolper executive produced the earlier version. LeVar Burton, who starred as Kunta in the original, serves as co-executive producer.