'Hannibal' Cast Contracts Expire, Complicating Revival Possibilities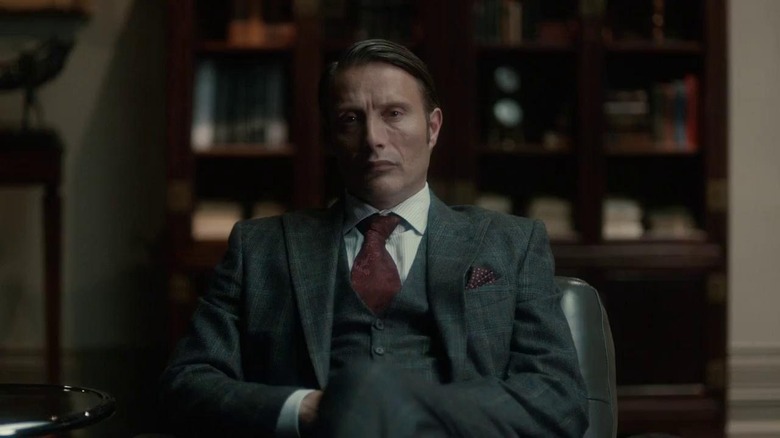 It is probably too much to expect that a streaming service will swoop in to save Hannibal. We know Netflix is out, thanks to deals with other companies. Amazon already has streaming rights to the first three seasons (the first two are streaming now, the third eventually will be, after broadcast) seems like the most likely home. In fact, that Amazon deal may make Amazon nearly the only possible contender. And with NBC out of the picture, even that deal will be complicated.
Now contracts for leads Hugh Dancy and Mads Mikkelsen have expired. That means they're free agents, which means that a fourth season for Hannibal would involve negotiating new contracts, making things even more complex.
Deadline reports that those contracts are gone, but there is good news. Talks carry on with potential suitors for a fourth season, and the site reports that Dancy and Mikkelsen like Hannibal so much that they're game to return.Hannibal creator Bryan Fuller told THR a few days ago,
It's all about gauging how much of an interest, and there are certain avenues that I know we wouldn't be able to do — for instance, Netflix, because our deal with Amazon precludes a Netflix component. So it's not a good deal for them to make, even though they've been so kind in terms of their enthusiasm for the show. The contract limits what they could do with it. ... Amazon makes the most sense, honestly, because they have been great partners with us for three seasons and we are exclusively streaming on Amazon. It feels like they have the interest in the program.
The need to draft new contracts could still make the show look like a more dicey pickup even for Amazon, however. Fuller called the odds 50/50 a week ago; that was before the need to draw up new contracts as added to the pile. (Obviously he knew even then that contracts would be expiring, but there could have been hope for a deal to be signed quickly.)
And as Fuller has done interviews in the past week, he's made one thing clear: his new priority now has to be American Gods, which means a fourth season of Hannibal has to wait until the first season of the Neil Gaiman adaptation is done. That adds another factor to the pickup equation.
He told THR "If there was a fourth season, we would coordinate a way to be able to allow me to do American Gods and Hannibal as well."
But to Deadline last week, he made American Gods sound a bit more pressing.
The question would be for the potential new distribution partner is how comfortable they are in waiting. Because I do have an obligation to American Gods and a passion for American Gods, so I absolutely want to service that in the way that it needs to be serviced.
That said, Fuller has laid in some hope for an alternate means of exercising his plan for the fourth season:
Oh yeah, the plan for the fourth season would actually make a wonderful psychological thriller if we contained it to a movie. I would love to do a Hannibal movie with this cast.