LOL: Paul Rudd Can't Stop Farting During 'Ant-Man' Interview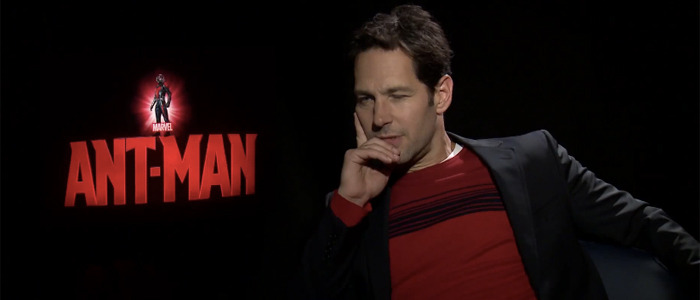 In Marvel's latest feature film Ant-Man, our titular hero has the power to shrink down to the size of an ant, not to mention being able to communicate with the little insects, and also use their impressive strength. But the film's star, Paul Rudd, has another super power, but it's pretty gross.
In a recent interview, the star of Anchorman and This is 40 simply couldn't stop farting. The interviewer tried to move on, but giggling and "tooting" continued, making for a rather unique experience in movie promotion. It sounds gross, but it's actually hilarious. Watch Paul Rudd farting during an Ant-Man interview below!
Here's the gaseous Ant-Man interview with Paul Rudd from Clevver Movies:
All right, so Rudd isn't really farting, but I absolutely love that he just didn't stop messing with the flatulent chair. It certainly made for a much more interesting junket interview than we normally get out of these short Q&A stints with the same questions about co-stars, uncomfortable superhero suits, and all the same questions that get tossed around.
Plus, you can already find out plenty about Ant-Man thanks to our set visit to the Marvel film. And the early buzz on the film says it's a refreshing contained story that scales back the action a bit compared to the world-ending, high death toll scenarios we've seen in Guardians of the Galaxy, Captain America: The Winter Soldier and The Avengers: Age of Ultron. James Gunn even called it his favorite Marvel movie since the first Iron Man.
Don't forget, we've already gotten word that director Peyton Reed would love to come back for a sequel, not to mention giving Hank Pym (Michael Douglas) a prequel movie. So if audiences love the movie, you can expect more Ant-Man down the road. We already know he'll be in Captain America: Civil War, but hopefully his own franchise continues too.