Video: Imagineers Take Us On A Tour Of The Updated Magical Effects In Disneyland's Peter Pan's Flight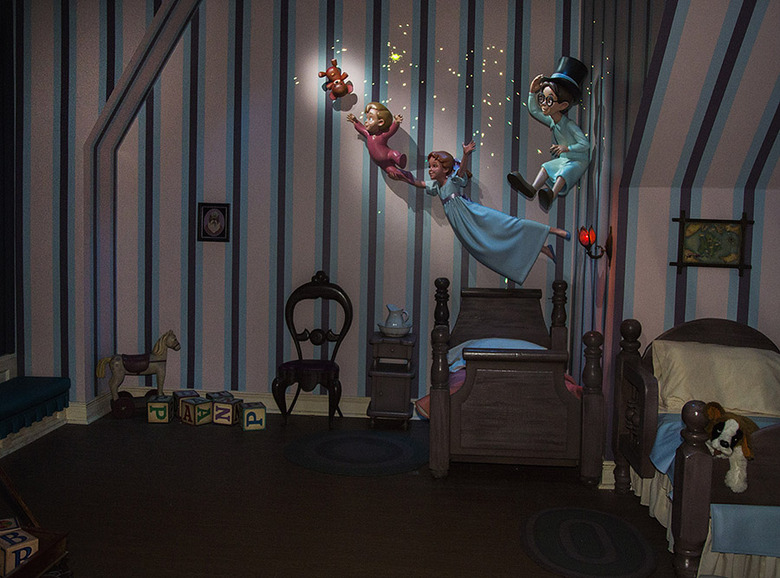 Disney has been very busy refurbishing some of their older attractions. Last year Disney added new effects to Big Thunder Mountain, Alice in Wonderland and the Indiana Jones Adventure. This year already Disney has revamped a bunch of attractions, adding the Hatbox Ghost to the Haunted Mansion as well as adding new effects and an awesome new animatronic Yeti to Matterhorn (too bad the new vehicles kill your butt).
And the newest attraction to get refurbishment is Peter Pan's Flight, one of my favorite rides in classic Fantasyland — I just love suspended dark ride vehicles, which is one of the reasons I love the Universal Studios' ET Adventure ride.  Walt Disney Imagineering has released a video showcasing the new additions to the attraction, giving us a behind the scenes peek into the thought and work that went into the new effects. Watch the video now embedded after the jump.
In the video, Walt Disney Imagineers Larry Nikolai and Elisabeth Papadopoulos give a scene-by-scene tour of the new magic added to Peter Pan's Flight. I love the new projection animation effects, especially the tinker bell additions. One of the things I always find amazing is how much these attractions have changed over the years but still feel classic.
I feel like most park guests ride the attractions in Fantasyland and assume they haven't changed much since they opened with the Park in 1955, but that can't be further from the truth — in this video one of the imagineers mentions two things in the attraction that were part of the original Walt Disney ride from opening day.
That surprises even a Disneyland fanatic like me who knows about the new Fantasyland revamp of the ride — I would have expected more of the original ride to still exist. But that doesn't matter, Walt always said that Disneyland was to grow and change, and it has. I'm glad that an attraction like this can retain its classic feel while adding new technology to make it feel new and magical again. I can't wait to ride Peter Pan's Flight again when I get back to Anaheim.