'Staten Island Summer' Trailer: A Cavalcade Of SNL Stars Regret Nothing (Except The Herpes)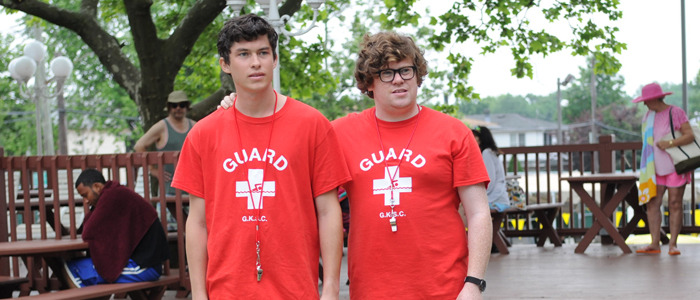 There are plenty of movies hitting the big screen this summer, but it looks like one of this season's gems may not be in theaters. Netflix is releasing the indie comedy Staten Island Summer on the streaming service at the end of the month, and this looks like a hilarious coming-of-age comedy.
Saturday Night Live creator and showrunner Lorne Michaels produced the film that features a cavalcade of cameos from his own discoveries such as Fred Armisen, Will Forte, Kate McKinnon, Bobby Moynihan and Cecily Strong. But at the core of the story are two teens on the verge of figuring out adulthood. And you can see the amusing results of that in the first Staten Island Summer trailer after the jump.
Here's the indie comedy trailer, straight from Yahoo:
As previously reported, the film's main story follows Graham Phillips (The Good Wife) and Zack Pearlman (Mulaney) as two best friends and recent high school graduates who work as lifeguards during the summer while they figure out their future. With that job comes irresponsibility, partying, and pining after girls.
Honestly, it looks like Superbad at poolside, but the story draws inspiration from SNL head writer Colin Jost's personal life. In addition, SNL producer and director Rhys Thomas got behind the camera to bring this comedy to life, and it looks just as good (if not better) as any studio comedy hitting theaters this summer.
Just going by the trailer, this could prove to be a breakthrough turn for both Phillips and Pearlman, and we just might be looking at two future comedy stars if this film gets enough attention on Netflix.  The rest of the cast includes Ashley Greene, Kate Walsh, Gina Gershon, Method Man, John Deluka, Michael Patrick O' Brien and Mary Birdsong.
Netflix exclusively debuts Staten Island Summer on July 31st.