First Real 'Ash Vs Evil Dead' Image Shows Bruce Campbell Ready For Battle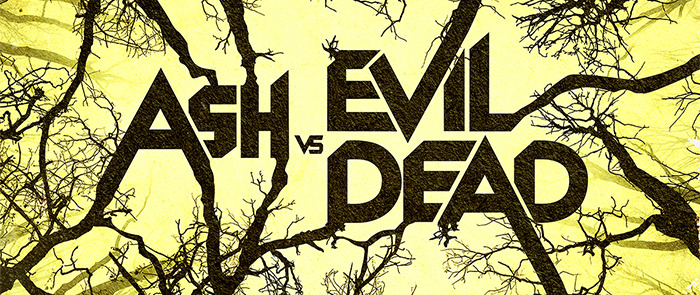 So far the images we've seen from Sam Raimi's new TV series Ash vs Evil Dead have been either title treatments like the one above, or extreme close-ups that reveal little, or behind the scenes shots. Now there's an actual shot of Bruce Campbell as Ash, along with two of his new co-stars. Check it the shot of Bruce Campbell in Ash vs Evil Dead, complete with chainsaw and blue shirt, below.
EW has this shot: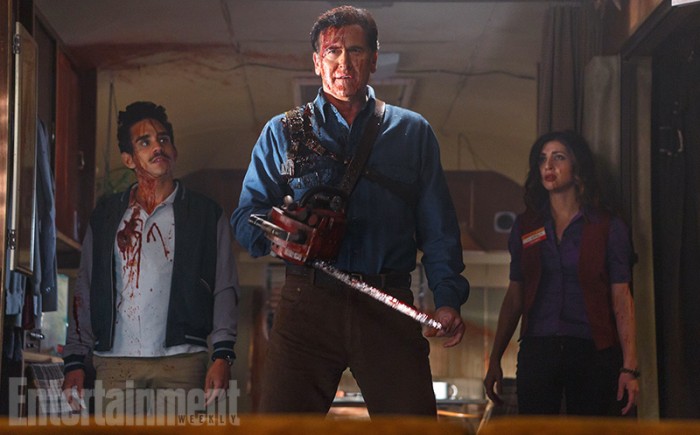 That's definitely Ash, right down the blue shirt. We know he's still working as a stock boy, and that he's still kind of a dope, and evidently Ash's inability to change extends right down to his choice of clothes.
Asked about Ash's life since we last saw him in Army of Darkness, Campbell says,
He was perfectly happy doing basically nothing: telling lies about how he lost his hand in bars late at night. That was basically his MO. So, he's not really the guy who should be dealing with this right now. But...he is. He's our guy!
The star/producer also has something interesting to say about the structure of this show overall:
It's The Searchers with carnage and mayhem. I'm relegated a little bit into the John Wayne mode these days with my team—the young, virile, evil fighters who will pair up with Ash and take on this nemesis: this never ending, ever evolving nemesis.
Two of those young fighters are pictured above with Campbell. They are two Value Stop employees who work alongside Ash before he lets the evil out once again: Pablo (Ray Santiago) and Kelly (Dana Delorenzo).
We'll learn more when Ash vs Evil Dead airs on Starz later this year. Here's the official text on the show:
Campbell will be reprising his role as Ash, the stock boy, aging lothario and chainsaw-handed monster hunter who has spent the last 30 years avoiding responsibility, maturity and the terrors of the Evil Dead. When a Deadite plague threatens to destroy all of mankind, Ash is finally forced to face his demons –personal and literal. Destiny, it turns out, has no plans to release the unlikely hero from its "Evil" grip.
The cast is led by Bruce Campbell (Evil Dead, "Burn Notice") in the role of Ash Williams, Lucy Lawless ("Salem," "Spartacus") as Ruby a mysterious figure who believes Ash is the cause of the Evil outbreaks, Ray Santiago ("Touch," Meet the Fockers) as Pablo Simon Bolivar, an idealistic immigrant who becomes Ash's loyal sidekick, Dana DeLorenzo (A Very Harold & Kumar 3D Christmas) as Kelly Maxwell, a moody wild child trying to outrun her past and Jill Marie Jones ("Sleepy Hollow") as Amanda Fisher, a disgraced Michigan State Trooper set to find our anti-hero Ash and prove his responsibility in the grisly murder of her partner.