Bel Powley Explores Love And Sexuality In 'Diary Of A Teenage Girl' UK Trailer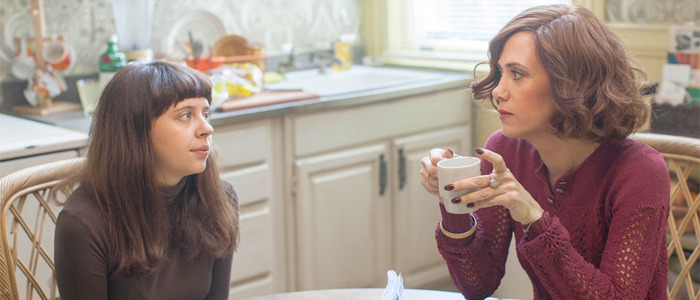 After making a splash at the Sundance Film Festival earlier this year, the indie sensation The Diary of a Teenage Girl is coming to theaters next month. The film may not have made our list of the Best of Sundance 2015, but it's certainly one of those indies worth seeking out this summer.
Now a new trailer from across the pond has surfaced, showcasing a tale of sexual exploration and coming-of-age, driven stupendously by a breakthrough performance from Bel Powley. And coming through with outstanding supporting performances are Alexander Skarsgard and Kristen Wiig too. Watch The Diary of a Teenage Girl UK trailer below!
Here's the latest trailer for the indie from Vertigo Films UK:
The Diary of a Teenage Girl was quite acclaimed at Sundance, even earning an award with the U.S. Dramatic Special Jury Award for Excellence in Cinematography. In my review from Sundance, I said:
"With her directorial debut, Marielle Heller can confidently stand alongside the powerful female voices behind the camera today. She paints a wonderful portrait of a teenager girl exploring her body, trying to understand love, and just figuring out the world around her. It's refreshing to get such an authentic perspective on raging hormones and growing up from a female character like this."
This is the kind of indie that will turn young movie lovers onto a new kind storytelling. It's packed with genuine performances, a lot of heart, and an honest look at growing up in the 1970s, with all the weirdness and freedom that came with that decade. Plus, there's some wonderful illustrations brought to life, adding some unique flare to the story. If this one makes it to your local cinema, be sure to check it out. If you need anymore convincing, check out the US teaser trailer here too.
Like most teenage girls, Minnie Goetze (Bel Powley) is longing for love, acceptance and a sense of purpose in the world. Minnie begins a complex love affair with her mother's (Kristen Wiig) boyfriend, "the handsomest man in the world," Monroe Rutherford (Alexander Skarsgård). What follows is a sharp, funny and provocative account of one girl's sexual and artistic awakening, without judgment.
Set in 1976 San Francisco, The Diary of a Teenage Girl begins at the crossroads of the fading hippie movement and the dawn of punk rock. News commentary of the Patty Hearst trial echoes in the background, as Minnie's young expressive eyes soak in a drug-laden city in transition- where teenage rebellion and adult responsibility clash in characters lost and longing. Minnie's hard-partying mother and absent father have left her rudderless. She first finds solace in Monroe's seductive smile, and then on the backstreets of the city by the bay. Animation serves a refuge from the confusing and unstable world around her. Minnie emerges defiant- taking command of her sexuality and drawing on her newfound creative talents to reveal truths in the kind of intimate and vivid detail that can only be found in the pages of a teenage girl's diary.
Sony Pictures Classics releases The Diary of a Teenage Girl on August 7th.