'Agent Carter' Season 2 Will Bring Back James D'Arcy As Jarvis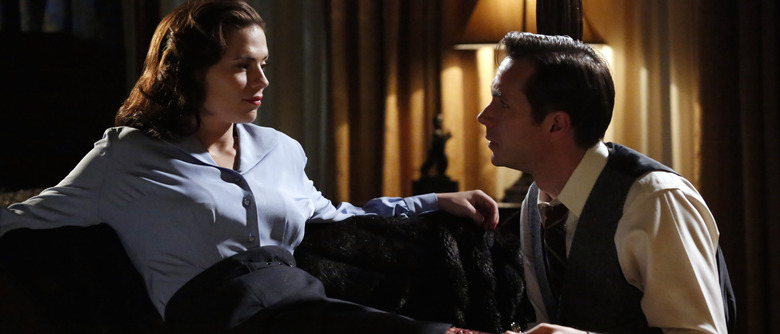 When Peggy strikes out for LA in Agent Carter Season 2, she'll bring some of her friends along for the ride. According to a new report, James D'Arcy (Edwin Jarvis) and Enver Gjokaj (Agent Sousa) are both returning for the next run of episodes. Several other Season 1 stars are said to be nearing deals as well.
Hit the jump for more details on Agent Carter Season 2 casting — as well as a peek at what Agent Carter lead Hayley Atwell has been doing in her off time. 
EW reports D'Arcy and Gjokaj will be regulars on Season 2 of Agent Carter. Additionally, Chad Michael Murray (Agent Thompson), Lyndsy Fonesca (Angie Martinelli), and Bridget Regan (Dottie Underwood) are in talks, but not yet confirmed, to return. Assuming all of the deals close, it looks like Agent Carter Season 2 will proceed with most of the Season 1 cast intact.
Up until now, Atwell was the only cast member definitely back for Season 2. With the action moving from New York to Los Angeles, it wasn't clear which, if any, of her co-stars might join her. But Peggy's friendships with Jarvis and Angie in particular were among the highlights of Season 1, so we're glad to hear those relationships will continue in Season 2.
It's certainly great news for Atwell, who's apparently going a little nuts waiting for Season 2 to start up again.
Still unclear is whether Dominic Cooper (Howard Stark) and Ralph Brown (Johann Fennhoff) might appear as well. Cooper will be busy with AMC's Preacher, but here's hoping he can squeeze in a guest appearance or two. And we probably haven't seen the last of Fennhoff, who was looking mighty chummy with a certain MCU villain at the end of Season 1.
The official synopsis for the next season of Agent Carter reads as follows:
"MARVEL'S AGENT CARTER" (Season 2) "Marvel's Agent Carter" returns for a second season of adventure and intrigue, starring Hayley Atwell in the titular role of the unstoppable secret agent for the SSR (Strategic Scientific Reserve). Dedicated to the fight against new atomic age threats in the wake of World War II, Peggy must now journey from New York City to Los Angeles for her most dangerous assignment yet. But even as she discovers new friends, a new home — and perhaps even a new love — she's about to find out that the bright lights of the post-war Hollywood mask a more sinister threat to everyone she is sworn to protect.
Agent Carter Season 2 will premiere in 2016 as part of ABC's midseason lineup.