Garry Marshall Lines Up 'Mother's Day' With Julia Roberts, Jennifer Aniston And More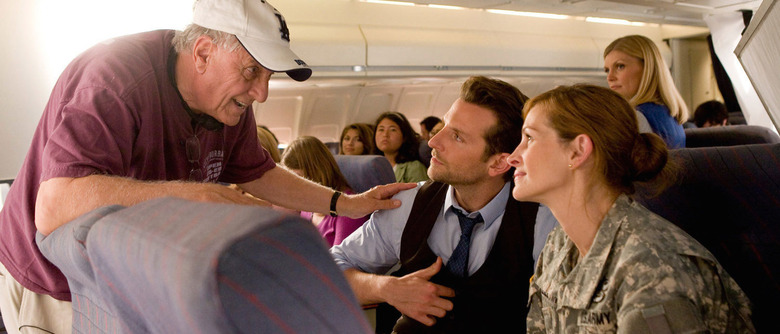 After a few years' hiatus, Valentine's Day and New Year's Eve director Garry Marshall is resuming his quest to turn every holiday on the calendar into a middling ensemble comedy. The next one on his list is Mother's Day, and he's already attracted quite the high-profile cast including Julia Roberts, Jennifer Aniston, Kate Hudson, and Jason Sudeikis.
More details on the Mothers Day Garry Marshall deal after the jump. 
Deadline reports Roberts is already confirmed for Mother's Day, while Aniston, Hudson, and Sudeikis are still in talks. Anya Kochoff-Romano (Monster-in-Law) and Lily Hollander wrote the script. Like New Year's Day and Valentine's Day before it, Mother's Day will feature several intertwining storylines centered around the titular holiday.
Roberts previously appeared in Valentine's Day. Her relationship with Marshall stretches back to 1990's Pretty Woman, which turned her into an internationally beloved superstar. They reunited in 1999 (along with Pretty Woman's Richard Gere) for Runaway Bride.
Hudson wasn't involved with either of the Day films, but did star in Marshall's Raising Helen. Neither Aniston nor Sudekis have worked with Marshall before. But they have worked with each other several times before on We're the Millers and both Horrible Bosses movies.
2010's Valentine's Day was panned by critics, and 2011's New Year's Eve was even more widely reviled. (The latter has a single-digit score on Rotten Tomatoes.) Nevertheless, both films made boatloads of money – $216 million for Valentine's Day, and $142 million for New Year's Eve. Both cost around $50-60 million to make.
The appeal for everyone involved is obvious. The big-name actors get to collect a paycheck for not much work, and their combined star power helps sell the film to audiences. Non-Marshall films have taken similar approaches include He's Just Not That Into You, Think Like a Man, and What to Expect When You're Expecting. 2003's Love Actually remains the gold standard for this particular romcom format, IMO.
Both of Marshall's previous holiday-themed films were released by New Line, but Mother's Day is still looking for a studio home. Production is slated to begin in August.