Look Back At The Impressive Practical T-1000 Special Effects From 'Terminator 2'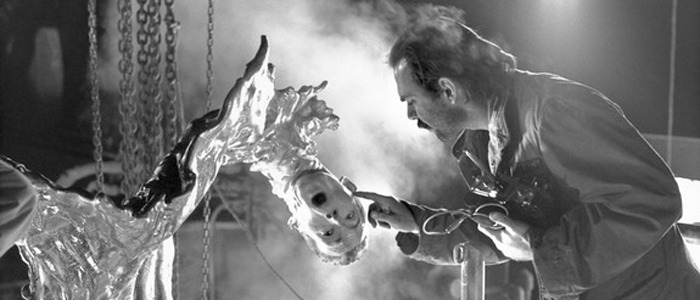 Today brings Terminator: Genisys to theaters, mashing up all sorts of elements from the previous films in the franchise into one big, convoluted mess of a time travel sci-fi adventure. (Though our own Peter Sciretta didn't hate it.) But at the very least, the film does get people talking about what I think is the best film in the series, Terminator 2: Judgment Day.
While the newest film brings the liquid metal T-1000 model back into the fray, albeit in the form of Byung-hun Lee instead of Robert Patrick, this time the liquid effects of the regenerating Terminator are done digitally. But back in 1990, even though the film was a pioneer in digital effects, many gags had to be done practically by Stan Winston Studios. And we have a fantastic look back at how the Terminator 2 T-1000 special effects were created. Watch below!
Click the image below to watch a detailed look behind the scenes of Terminator 2 from Stan Winston School:
Speaking of the work that had to be done on the James Cameron action sequel, Stan Winston Studios supervisor and Legacy Effects co-founder John Rosengrant says:
"The endoskeletons, which had been the big deal on Terminator, were the least of our problems on Terminator 2. By far, the most challenging things we did for Terminator 2 were these physical effects involving the T-1000 character. We did a lot of in-camera magic tricks for that — splitting open bodies, finger blades, heads blowing open, bullet-hit wounds. Every day, there was something new and challenging to do."
And yet, these are all things that are much easier to do in the age of digital effects. Granted, they don't always look as good or as convincing in this form, so it's always cool to look back at a time when filmmakers and their crew were forced to be innovative and created in order to make certain sci-fi elements look real on the big screen. These were game-changing effects, and many of them still look incredible to this day. Here's some images of the practical effects used for the T-1000 from Stan Winston School:
As you can see, this was no easy feat. For example, the splash head effects when T-1000 takes close-range gunfire in the middle of the hospital required two articulated puppets. One was employed for the shot of the head initially springing open, which we see from behind. To create that effect, the special effects crew sculpted Robert Patrick in clay, split it down the middle and pulled it open, and then sculpted a big splash in the middle of it. Finally, a foam rubber puppet made from molds of that sculpture.
Movie magic can still be impressive today, but work like this from 25 years ago is on a whole other level. It's a shame that we don't get much work like this on the big screen anymore.