Anthony Mackie Will Be The MLK To Bryan Cranston's LBJ In 'All The Way'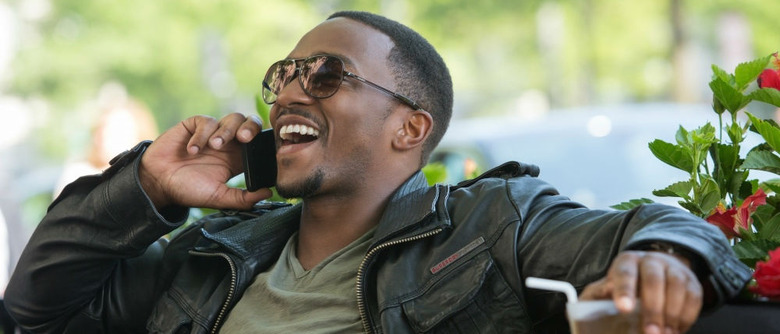 Captain America's big-screen buddy is set to portray another, even greater, American icon. Anthony Mackie will play Martin Luther King Jr. in HBO Films' All the Way, opposite Bryan Cranston as U.S. president Lyndon B. Johnson. More details on the Anthony Mackie Martin Luther King Jr. casting after the jump. 
All the Way is a screen adaptation of Robert Schenkkan's Tony-winning play. Cranston starred in the stage version from 2013 to 2014, and won a Tony for his efforts. The HBO version is being directed by Jay Roach and executive produced by Steven Spielberg along with Roach, Cranston, Schenkkan, Darryl Frank, and Justin Falvey. Production is slated to begin this September.
The story picks up right after the assassination of John F. Kennedy in 1963 made LBJ president, and follows him through his eventful first year in office. That period included Johnson's signing of the landmark Civil Rights Act of 1964, and ended with his re-election by a landslide in 1964.
Deadline notes the MLK role is a significant one. Brandon J. Dirden played the character in the show's Broadway production. Mackie has big shoes to fill. Not only is King a towering and familiar figure, but the last major onscreen portrayal of him was David Oyelowo's Oscar-worthy (and sadly Oscar-snubbed) performance in Selma.
Actually, All the Way is in some ways the flipside to Selma. Whereas Ava DuVernay's drama chronicled the fight from MLK's perspective, All the Way centers on LBJ's efforts to push through the Civil Rights Act. Other key characters in the play include Lady Bird Johnson, J. Edgar Hoover, Hubert Humphrey, and Richard Russell.
Mackie is currently shooting Captain America: Civil War, in which he reprises his Avengers: Age of Ultron role as Falcon. He'll be seen later this year in Jonathan Levine's holiday comedy X-Mas, the John Hillcoat crime drama Triple Nine, and the David Gordon Green drama Our Brand Is Crisis.