James Gunn Freaking Loves 'Ant-Man': "My Favorite Marvel Film Since 'Iron Man'"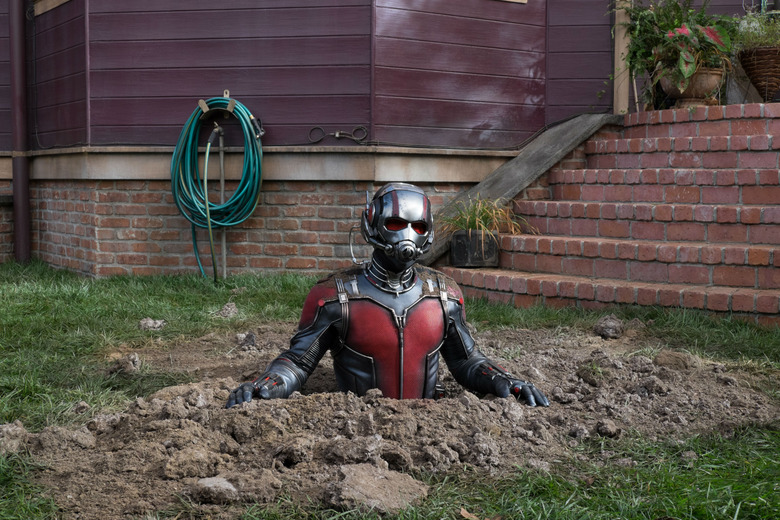 Though it won't come out for another couple of weeks, Ant-Man has gotten some very solid reactions already. Now we have another one to add to the praise pile, from a guy who certainly knows his way around the Marvel Cinematic Universe.
Director James Gunn, who caught Ant-Man at its Los Angeles premiere this week, gushed that it may just be his third-favorite Marvel movie of all time, after Iron Man and his own Guardians of the Galaxy. Hey, the guy was right about Daredevil. Read the James Gunn Ant-Man review after the jump. 
Gunn unleashed a torrent of effusive praise for Ant-Man on Facebook:
Ant-Man may just be my favorite Marvel film since Jon Favreau's Iron Man (well, maybe excluding one film to which I'm partial). Honestly, the movie is a complete blast! I was so happy after seeing it. It's never boring for a second and it's hilarious and warm throughout. It doesn't get caught up in the webbing of its own science-fiction concept like so many movies do these days, remaining simple and elegant. It's a part of the Marvel universe without being ruled by that fact.
He went on to rave about the cast, including Paul Rudd ("nuanced and charming and funny and is a surprisingly natural fit as a modern superhero") and Michael Peña ("this movie is going to make him a huge star"). And then:
I think all of Peyton Reed's years directing have led him to making something as deft and nimble and joyous as this; he did an incredible job. And, despite Edgar Wright's parting from Marvel, his spirit is felt through the entire project, and there is no doubt everyone owes him a huge debt of gratitude.
To be sure, Gunn is probably a bit biased seeing as he's part of the Marvel family himself. But he's echoing comments we've heard from other people, up to and including the part about Wright's influence on the finished product. The director's departure was a sore spot for a lot of fans, so perhaps Gunn's comments will help Marvel win back their trust.
Ant-Man arrives in theaters July 17.