'Minority Report' TV Series Adds New Lead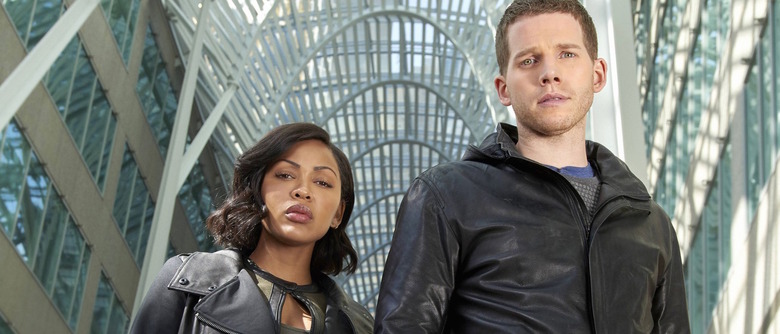 Casting twins is always tricky; is it better to use two similar actors, or actual twins, or one actor to play both roles? We've seen it done via all these methods, and while it was once very difficult to have one actor convincingly play twins (see all the effort put into Jeremy Irons' performance for Dead Ringers), digital effects make it a lot easier, on the technical side at least, for one actor to do the job.
The Minority Report TV series originally cast one actor, Stark Sands (above, right), to play precog twins Dash and Arthur. But there's been a shakeup to the Minority Report cast, or rather an addition. Nick Zano (One Big Happy) has signed on to play Arthur.
THR reports; Sands will continue to play Dash. Zano, who has also been on 2 Broke Girls and Happy Endings, will be a series regular. The characters are fraternal twins rather than identical, making the casting a lot easier to justify from a character perspective.
This means reshoots for the pilot, for which we've already seen a trailer. There's no info on the reason for the cast addition. Maybe we can look to David Cronenberg's comments on casting Dead Ringers: "Everyone, even people on the street, would say, gee, playing twins must be a great challenge for an actor. Surely, any actor would want to play twins. In fact, I think that's the first reaction, and then the second is terror. To play two real people is difficult, and scary."
That's not to say that Sands was intimidated into cutting his workload in half. The rigors of keeping a TV series on schedule could mean that the intensive work required to play both roles is simply more than the schedule can bear. Obviously, there could be any number of reasons for the decision.
The trade describes the two characters:
[Arthur has] a hard shell that was borne of years of difficult experience in the outside world that Dash avoided. Arthur is confident and self-assured, even Machiavellian in his interaction with the world that once exploited him. So while Dash selflessly and heroically tries to stop the future murders he sees in his precognitive visions, his estranged twin uses his gift to consolidate personal wealth and power in the building of an empire. Stronger together as a complete unit, they help one another from time to time, but in the long run both are bad for each other's business.
Here's the original teaser for the pilot:
Fox has Minority Report on Monday nights starting this fall.
Based on the international blockbuster film by executive producer Steven Spielberg and the first of his films to be adapted for television, MINORITY REPORT follows the unlikely partnership between a man haunted by the future and a cop haunted by her past, as they race to stop the worst crimes of the year 2065 before they happen.
Set in Washington, D.C., it is 10 years after the demise of Precrime, a law enforcement agency tasked with identifying and eliminating criminals...before their crimes were committed. To carry out this brand of justice, the agency used three precogs – "precognitives" Dash, Arthur and Agatha – who were able to see the future. Now, in 2065, crime-solving is different, and justice leans more on sophisticated and trusted technology than on the instincts of the precogs.