'Steve Jobs' Trailer: "Ladies And Gentleman, Please Welcome..."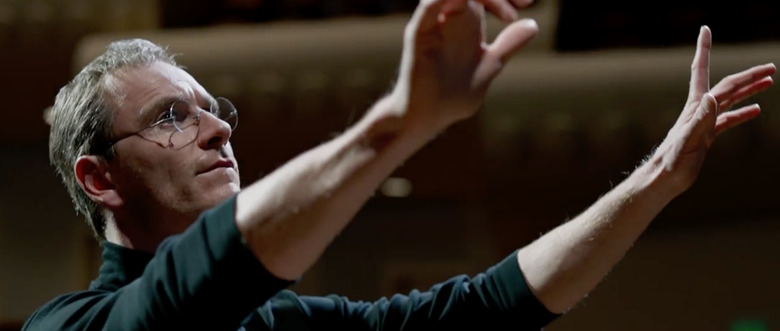 Universal Pictures has released the first full trailer for Steve Jobs, the film starring Michael Fassbender, directed by Academy Award-winner Danny Boyle (Slumdog Millionaire, 127 Hours, Trainspotting) and written by Academy Award-winner Aaron Sorkin (The Social Network, Moneyball, A Few Good Men). You may recall that Sony released a one minute Steve Jobs teaser trailer during the final episode of Mad Men. The new trailer gives us a better look at the upcoming film. Hit the jump to watch the new Steve Jobs trailer.
Steve Jobs Trailer
I still don't get the full Steve Jobs vibe from Michael Fassbender, although all the quotes and moments sound very much like the character. I am personally surprised that so much of the trailer seems to be spent on Steve's relationship with his daughter Lisa, as I wasn't expecting that to be a huge storyline due to the keynote structure of the film.
Of course, the film is set at three iconic product launches, ending in 1998's unveiling of the iMac, but as we first told you, the film also employs a series of flashbacks to show us some other key moments which thematically heighten the drama of the key notes.
I've been very excited about this film since it was announced. I like Danny Boyle but now having seen this trailer I really wish we had gotten to see the version David Fincher was going to make. The tone of the film presented in the trailer just doesn't feel like what I was wanting the film to be. But maybe it is just how the trailer is cut to the music?
Here is the official synopsis for the Steve Jobs movie:
Set backstage at three iconic product launches and ending in 1998 with the unveiling of the iMac, Steve Jobs takes us behind the scenes of the digital revolution to paint an intimate portrait of the brilliant man at its epicenter. Steve Jobs is directed by Academy Award® winner Danny Boyle and written by Academy Award® winner Aaron Sorkin, working from Walter Isaacson's best-selling biography of the Apple founder. The producers are Mark Gordon, Guymon Casady of Film 360, Scott Rudin and Academy Award® winner Christian Colson. Michael Fassbender plays Steve Jobs, the pioneering founder of Apple, with Academy Award®-winning actress Kate Winslet starring as Joanna Hoffman, former marketing chief of Macintosh. Steve Wozniak, who co-founded Apple, is played by Seth Rogen, and Jeff Daniels stars as former Apple CEO John Sculley. The film also stars Katherine Waterston as Chrisann Brennan, Jobs' ex-girlfriend, and Michael Stuhlbarg as Andy Hertzfeld, one of the original members of the Apple Macintosh development team.
Steve Jobs will hit theaters on October 9th 2015.