Peyton Reed Would "Love" To Do 'Ant-Man 2'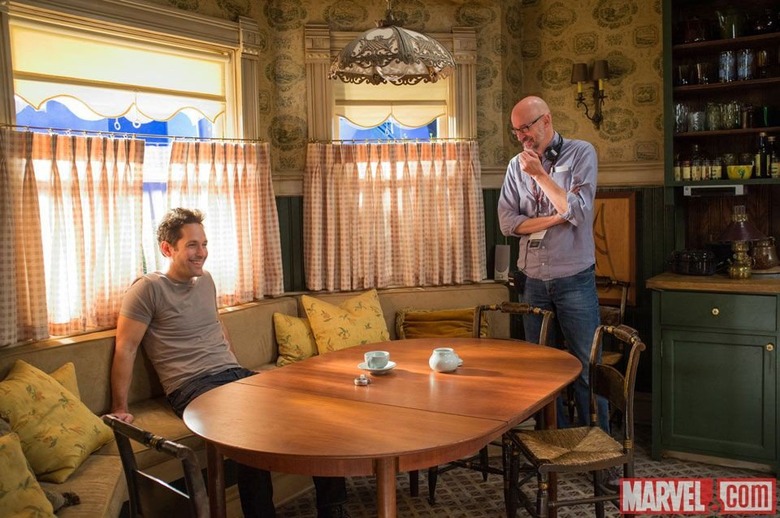 Marvel's not really in the business of making standalone movies. So even though there are no explicit plans for an Ant-Man 2 at the moment, it's not a stretch to imagine there could be, as long as the first film doesn't bomb completely. And if that does happen, director Peyton Reed would like Marvel to know he's interested in returning. Read the Ant-Man 2 Peyton Reed comments after the jump. 
Speaking to Variety at the Ant-Man premiere, Reed voiced his willingness to return for a potential sequel. ""If we're fortunate enough to do another Ant-Man movie, I would love to do it," he said.
Star Paul Rudd should be a sure bet to return for Ant-Man 2, if it ever gets off the ground. But as of right now, his only confirmed future Marvel project is Captain America: Civil War. Meanwhile, his co-star Evangeline Lilly is eager to come back as well. "All I know is that I had to sign up for three films, as does anybody," she said. "And I hope they use me for two more."
Reed famously replaced original director Edgar Wright on Ant-Man, after Wright's abrupt last-minute departure. That's an awkward position for any director to be in, but it seems Reed has handled it well. It helps that by now, fans have had a year to come to terms with Edgar Wright's exit.
Early buzz on Ant-Man has been good, and Reed's comments suggest he enjoyed the shoot. Contrast that to Thor: The Dark World director Alan Taylor's recent comments about his Marvel experience: "That is something I hope never to repeat and don't wish upon anybody else."Ant-Man crawls into theaters July 17.
The next evolution of the Marvel Cinematic Universe brings a founding member of The Avengers to the big screen for the first time with Marvel Studios' "Ant-Man." Armed with the astonishing ability to shrink in scale but increase in strength, master thief Scott Lang must embrace his inner hero and help his mentor, Dr. Hank Pym, protect the secret behind his spectacular Ant-Man suit from a new generation of towering threats. Against seemingly insurmountable obstacles, Pym and Lang must plan and pull off a heist that will save the world.
Marvel's "Ant-Man" stars Paul Rudd as Scott Lang aka Ant-Man, Evangeline Lilly as Hope van Dyne, Corey Stoll as Darren Cross aka Yellowjacket, Bobby Cannavale as Paxton, Michael Peña as Luis, Tip "T.I." Harris as Dave, Wood Harris as Gale, Judy Greer as Maggie, David Dastmalchian as Kurt, and Michael Douglas as Dr. Hank Pym. Directed by Peyton Reed and produced by Kevin Feige, p.g.a., Marvel's "Ant-Man" delivers a high-stakes, tension-filled adventure on July 17, 2015.