Seattle House Linked To Pixar's 'Up' May Be Demolished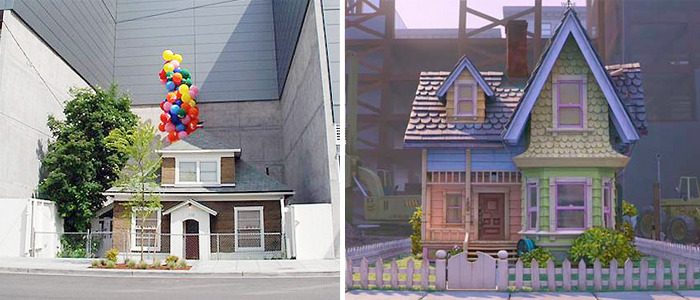 The first 10 minutes of Pixar Animation's movie Up are enough to make anyone cry, no matter what age or how tough you are. And now we have another potentially sad story with links to the Pixar movie
You might remember back in 2006 there was the real-life story of an old woman named Edith Macefield who refused a $1 million offer for her 1,000-square-foot house. An investment company was developing a 131,000-square-foot retail center in the area and wanted to tear down her house to use the entire area for their building. But since she refused to sell, they built the entire building around her house (as seen above). But now that house may end up being demolished anyway. Find out if we'll see the Up house demolished after the jump.
In 2009, the house became linked to Up because publicists tied a cluster of balloons to the house as a bit of cool marketing for the film. The spirit of the woman and her lack of interest in selling her home had clear ties to the main character Carl, who refused to sell the home where he and his wife shared their love before she passed away.
Reuters reports Macefield actually died in 2008, but left the house to a construction superintendent she had befriended, and it was sold the following year. And now the house's broker, Paul Thomas, has revealed that a woman had purchased the home and planned to open a coffee and pie store in the house, but that plan fell through. Supposedly bringing the house to code was proving to be very expensive, and now that might result in the house being torn down.
Thomas says, "It has become apparent that the age and condition of the house make it cost-prohibitive for anyone to use the house in its current location." On the bright side, the home could end up being donated to a non-profit who will keep it intact and move it to another location. But if that doesn't happen in 90 days, it could be destroyed and the land could be sold. That's a real bummer.
This sounds like the perfect time for someone to create a Kickstarter in order to save this house from being destroyed. Maybe Pixar Animation can step in and bring this house to their headquarters in California? It would be expensive, but it just might be worth it for the goodwill alone.