'Star Trek Beyond' Title Confirmed; Justin Lin Shares First Photo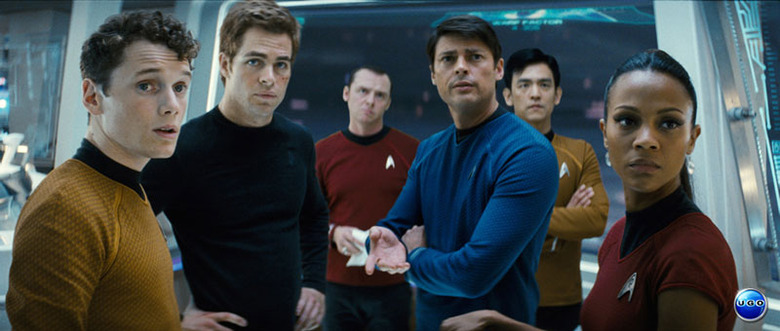 The USS Enterprise will boldly go... exactly where we all thought it would. At least when it comes to the title. Director Justin Lin has confirmed the longstanding rumor that Star Trek 3 will be titled Star Trek Beyond, and shared the first (not terribly revealing) official photo from the set to boot. See the Star Trek Beyond title announcement and image after the jump. 
Lin verified the Star Trek Beyond title and offered up the first look in one fell swoop thanks to Twitter.
Let the next Starfleet voyage begin! #StarTrekBeyond #LLAP pic.twitter.com/VZh9YvJgqA

— Justin Lin (@justinlin) June 29, 2015
The Star Trek Beyond title has been rumored for several weeks already, but until now we didn't have ironclad confirmation. It's a bit generic sounding, but at least it's a better title than the awkward Star Trek Into Darkness. (Paramount later confirmed the title with a release calendar update.)
The picture isn't terribly revealing, as it's just a close-up of a Starfleet logo patch on a uniform. Still, it's been two years since the last Star Trek adventure, so it's just nice to see that the new one is finally on track. Previously, stars Zoe Saldana (Uhura) and Zachary Quinto (Spock) shared some behind-the-scenes snaps when production got underway last week.
Very few details have been revealed about Star Trek Beyond, other than that it'll follow the Enterprise crew on their five-year mission. In terms of the general feel, we've heard it could be "less Star Trek-y" — but what exactly that means, and whether that's a good thing or a bad thing, is still open for debate.
Simon Pegg and Doug Jung scripted Star Trek Beyond, which brings back the entire core cast: Quinto, Saldana, Chris Pine (Kirk), Karl Urban (Bones), Anton Yelchin (Chekov), John Cho (Sulu), and of course Pegg himself (Scotty). In addition, Idris Elba joins the cast as the villain, and Sofia Boutella will appear in a mystery role.Star Trek Beyond opens July 8, 2016. Next year also happens to mark the 50th anniversary of the franchise, which began in 1966 with the original TV show.