'Ten Thousand Saints' Trailer: Ethan Hawke Is Back In Cool Dad Mode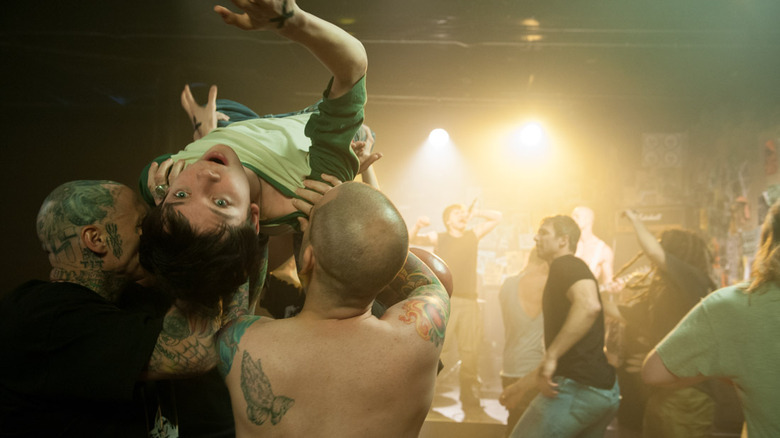 Ten Thousand Saints, which comes from the American Splendor team of Shari Springer Berman and Robert Pulcini, has an incredible cast for a story set at a tense period in New York City history. Ethan Hawke, Asa Butterfield, Hailee Steinfeld, Emile Hirsch and Emily Mortimer play a collection of characters who create an unlikely extended family finding their way through Manhattan in the days of hardcore punk and the Tomkins Square Park riot of 1988.
This Ten Thousand Saints trailer doesn't show much of Hirsch as the leader of a straight-edge hardcore band (that's him on the mic in the background of the image above), but it does introduce Asa Butterfield as his damaged younger brother, Hailee Steinfeld as the young woman caught between them, and Ethan Hawke as the boys' rakish, charming dad, imported more or less directly from Boyhood.
While the cast is impressive and the story has a lot of promise, in truth I can't think of a film from Sundance 2015 I liked less than Ten Thousand Saints. While Hawke is charming as hell, the storytelling is labored, the hardcore scene as depicted feels put-on and phony, and the use of the Tompkins Square Park riot comes off as misguided appropriation. I don't know if those qualities are endemic to the source novel by Eleanor Henderson, but the film may be best appreciated by hardcore fans of any of the particular cast members.
Ten Thousand Saints opens on August 14. Trailer via YouTube.
Here's the Sundance description:
Jude—named after a Beatles song by his hippie parents—spends his high school days in small-town Vermont getting high with his best friend, Teddy. Beneath Jude's mind-numbing activities lurks a desire to reconnect with his estranged father, Les, who abandoned the family when Jude was nine. Desperate to keep her son out of trouble, Jude's mother sends him to live with Les in New York City. In the roiling and raw East Village, Jude struggles to establish an identity within the cultural upheaval downtown and forms an unlikely surrogate family with Teddy's straight-edge brother and a troubled, rich uptown girl.