See A Five-Minute IMAX Preview Of 'Mission: Impossible' Before 'Terminator Genisys'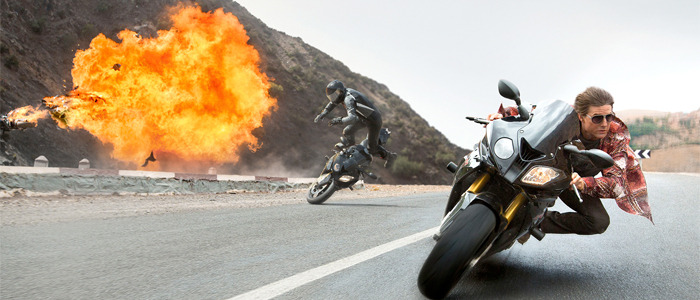 Every once in a while the IMAX release of one film will provide an opportunity to do promotion for another. Mission: Impossible – Ghost Protocol, for instance, featured a preview of footage from The Dark Knight Rises when the Tom Cruise thriller came to IMAX theaters in December 2011. Four years later, a new Mission: Impossible film is coming to theaters, and this time you can preview it in IMAX by seeing a different movie. Those who see Terminator Genisys in IMAX theaters will get a five-minute preview of Mission: Impossible – Rogue Nation. Details below.
Here's Paramount's press release.
HOLLYWOOD, CA (June 29, 2015) – Paramount Pictures and Skydance today announced that five minutes of "MISSION: IMPOSSIBLE – ROGUE NATION" will debut exclusively in IMAX® theatres one month prior to its theatrical release. This sneak peek at the highly anticipated summer film will play on 363 IMAX® screens in front of "TERMINATOR GENISYS" in North America.Fans can experience the sneak peek and "TERMINATOR GENISYS" beginning at 7:00 p.m. on June 30th. Tickets are on sale now. To reserve tickets at IMAX theatres, visit www.IMAX.com/TerminatorParamount Pictures and Skydance present a Tom Cruise / Bad Robot Production, "MISSION: IMPOSSIBLE – ROGUE NATION." With the IMF disbanded and Ethan (Tom Cruise) out in the cold, the team now faces off against a network of highly skilled special agents, the Syndicate. These highly trained operatives are hellbent on creating a new world order through an escalating series of terrorist attacks. Ethan gathers his team and joins forces with disavowed British agent Ilsa Faust (Rebecca Ferguson), who may or may not be a member of this rogue nation, as the group faces its most impossible mission yet. Starring Tom Cruise, Jeremy Renner, Simon Pegg, Rebecca Ferguson, Ving Rhames, Sean Harris, Simon McBurney, Zhang Jingchu and Alec Baldwin.The film is directed by Christopher McQuarrie, with a screenplay by Christopher McQuarrie and story by Christopher McQuarrie and Drew Pearce. Based on the television series created by Bruce Geller. Produced by Tom Cruise, J.J. Abrams, Bryan Burk, David Ellison, Dana Goldbergand Don Granger. Executive produced by Jake Myers.Paramount Pictures will distribute "MISSION: IMPOSSIBLE – ROGUE NATION" on July 31st, 2015.