Watch: 'X-Men: Apocalypse' Star Olivia Munn Sharpens Her Sword Skills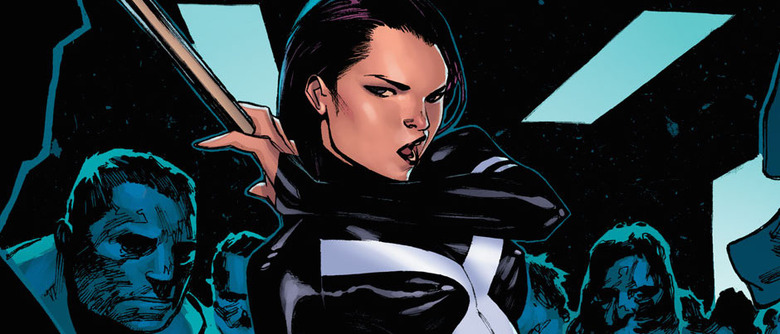 Olivia Munn is getting into fighting shape. The actress shared a video of herself practicing her katana moves for X-Men: Apocalypse, in which she'll play Betsy Braddock a.k.a. Psylocke. See the X-Men Apocalypse Olivia Munn sword video after the jump.
Munn, who was cast as Psylocke back in April, shared a photo of herself practicing the character's sword skills on Instagram.
(For you football fans, the guy in the background is Green Bay Packers QB Aaron Rodgers, Munn's boyfriend.)
Betsy Braddock debuted in a 1976 issue of Captain Britain as the title hero's twin sister, a British charter pilot and model, and even took over the Captain Britain mantle herself for a time.
In the mid-'80s she joined the X-Men franchise and picked up the alias Psylocke. Some time after that, she swapped bodies with a Japanese female ninja named Kwannon, picking up some of Kwannon's skills and personality. Her powers include telepathy, telekinesis, and precognition, and her signature weapon is a psionic katana.
While we'll have to wait and see how the rest of Munn's performance as Psylocke shakes out, her athletic abilities, at least, look unimpeachable. She's using a regular sword instead of a psionic one, like her comic book counterpart, but we'll let that part slide.
Munn is one of several newcomers to the franchise along with Sophie Turner (Jean Grey), Tye Sheridan (Scott Summers / Cyclops), Alexandra Shipp (Ororo Munroe / Storm), Kodi Smit-McPhee (Kurt Wagner / Nightcrawler), Ben Hardy (Warren Worthington III / Angel), Lana Condor (Jubilation Lee / Jubilee), and Oscar Isaac (En Sabah Nur / Apocalypse).
Returning cast members include James McAvoy (Charles Xavier / Professor X), Michael Fassbender (Erik Lensherr / Magneto), Jennifer Lawrence (Raven / Mystique), Nicholas Hoult (Hank McCoy / Beast), Evan Peters (Peter / Quicksilver), Lucas Till (Alex Summers / Havok), and Rose Byrne (Moira MacTaggert).
X-Men: Apocalypse arrives in theaters May 27, 2016. Bryan Singer directs.