Gallery 1988's 30th Anniversary Artwork Tribute Show To 'Clue' Is To Die For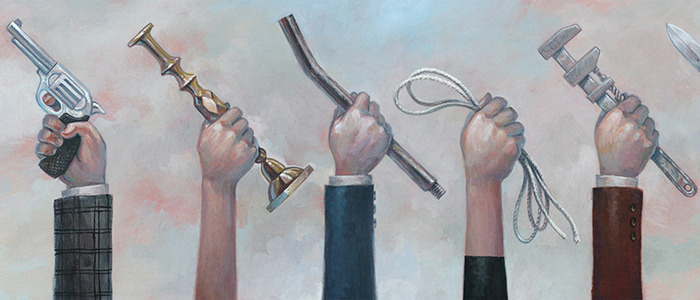 This year marks the anniversary of several movies, including the 30th anniversary of Back to the Future, the 40th anniversary of Jaws and the 25th anniversary of Gremlins 2: The New Batch. But there's another film that may not be quite as celebrated, but deserves to be honored for its 30th anniversary this year: the murder mystery comedy Clue.
Based on the classic board game of the same name, the film brings to life the strange and perplexing murder mystery that keeps getting worse as the stormy night carries on. If there's one piece of evidence to show that adapting a board game into a movie can work, it's Clue. And Gallery 1988 is paying tribute to the movie with a collection of fantastic, original artwork. Check out the Gallery 1988 Clue artwork after the jump!
Clue isn't even one of my favorite movies, though I think it doesn't get talked about nearly as much as it should, but I would love to have several of these pieces framed on my wall. The above pieces are just our favorites, and you'll find that there's dozens more for you to check out at the official Gallery 1988 website right here. Some of them are actually sculptures or 3D wall pieces.
Personally, my favorite prints are the bookshelf with all the weapons on it that looks like a skull and the ornate paying card with everyone's face on it. But I will say that the 3D sculpture with the magnifying glass and weapons embedded in the bloody, transparent block is a great piece of work too.
If you like any of the pieces you see above, or want to see what other prints are available, these are all for sale over at Gallery 1988's website right now. Some of them are already sold out, so you better act fast if you're a big Clue fan. There's no better way to celebrate the film's 30th anniversary, unless there's a screening happening in your area.