Ron Perlman Hints 'Hellboy 3' May Be Happening After All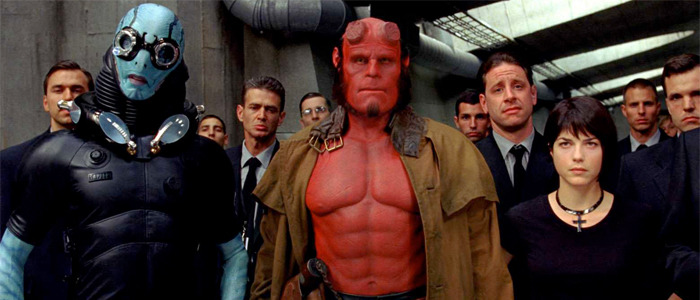 For years, Guillermo del Toro and Ron Perlman have been trying to get Hellboy 3 off the ground. But the hope fans had to see the sequel actually happen was delivered a crushing blow almost a year ago when del Toro said:
"I don't think it will happen. Creatively, I would love to make it. Creatively. But it is proven almost impossible to finance. Not from my side, but from the studio side. If I was a multimillionaire, I would finance it myself, but I spend all my money on rubber monsters."
However, Perlman got our hopes up again earlier this month when he started rallying support for the sequel again on social media. And now he's hinting that those efforts might have paid off. Read on to find our more about Hellboy 3.
Here's what Ron Perlman posted on Instagram last night:
That sounds a lot like some kind of deal has been worked out to make Hellboy 3 get off the ground. We're not sure what has changed since del Toro lost faith that the project would aver get off the ground, because it was a business problem before. While the first two films made back their budget and even turned a profit thanks to the home video sales, that has become a less reliable return as the market changes. Maybe someone finally decided to just give del Toro the money he needed to make this happen. Hopefully we'll get more details about this tease soon.
As for what we can expect from the possibility of Hellboy 3, back when del Toro didn't believe the sequel would happen, the filmmaker revealed a little bit about what the story would have been:
"The idea for it was to have Hellboy finally come to terms with the fact that his destiny, his inevitable destiny, is to become the beast of the Apocalypse, and having him and Liz face the sort of, that part of his nature, and he has to do it, in order to be able to ironically vanquish the foe that he has to face in the 3rd film. He has to become the best of the Apocalypse to be able to defend humanity, but at the same time he becomes a much darker being."
Here's hoping that Hellboy 3 will actually become a reality and we get to see how this story ends. The first two films are gems of the comic book action adventure genre as they blend sci-fi, fantasy and comedy in the perfect way. Stay tuned to see what happens.