Second Season Of 'Wayward Pines' May Have All-New Cast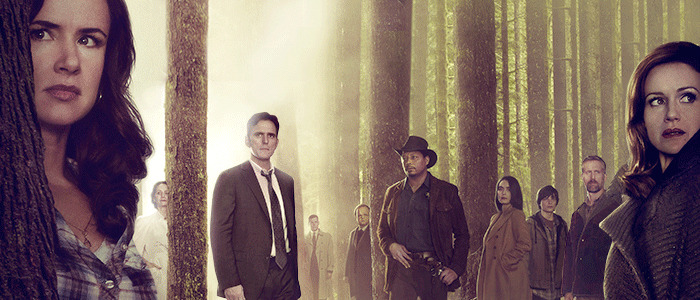 Is anyone out there watching M. Night Shyamalan and Chad Hodge's TV series Wayward Pines on Fox? The series debuted about two years after it was picked up by the network, and while it didn't do so well when it premiered up against the season finales of The Blacklist and Scandal, it's actually found a decent audience since then.
But while the live numbers weren't anything to write home about, Wayward Pines gained a record percentage DVR lift of 90% for a 1.9 rating, which isn't bad at all. In the weeks since, it's actually gained a consistent viewership (especially after DVR numbers come in), but that could get shaken up if the show may get a second season with a whole new cast.
Find out more about Wayward Pines season two after the jump!
Deadline reports there is currently interest in a second season of the mystery series, but if Fox happens to order one, there's a chance that cast members like Matt Dillon, Carla Gugino and Melissa Leo won't be back. Because it took so long for the show to make it to air, the options to bring back all the actors expired awhile ago. Juliette Lewis and Terrence Howard even went on to star in Secrets and Lies and Empire respectively in the time it took for Wayward Pines to make it to air.
So as of now, the idea is to have a second season follow an entirely different set of characters, but have it set in the same world. It would be a mix of the recently popular anthology series format and the more traditional serial narratives, which could be interesting. It's still early days though, and there's no guarantee that Wayward Pines will actually get renewed.
Personally, I haven't give then series a chance yet, so I can't say whether this concept would make me less disinterested in the show, but surely viewers will have an opinion on the matter if this idea should become realized. If you haven't watched any of Wayward Pines and you're thinking about giving it a shot, here's the series trailer and synopsis:
Secret Service Agent Ethan Burke (Matt Dillon) drives to the bucolic town of Wayward Pines, ID, searching for two missing federal agents. Ethan is the logical choice for the mission. He's one of the best Secret Service agents in the Seattle office. He's also the man who knew missing agent Kate Hewson (Carla Gugino) better than anyone. They were partners. They were more than that. Their relationship nearly destroyed Ethan's marriage.
Everything changes when a truck slams into his car...and he wakes up in the Wayward Pines Hospital, with the intense and unpredictable Nurse Pam (Melissa Leo) at his bedside. It soon appears that Pam may be more interested in harming than healing. She and Ethan grow into deadly rivals, and her role in the town proves much deeper than anyone realizes.
As the mysteries within the town pile up and clash with his own version of recent events, Ethan starts to question his own sanity. He is confronted by the mysterious and charismatic Dr. Jenkins (Toby Jones), the psychiatrist who treats him at Wayward Pines Hospital. As he begins to meet some of the local residents, including toymaker Harold Ballinger (Reed Diamond), Ethan forms a bond with Beverly (Juliette Lewis), a bartender who doesn't mince words and is as wary of Wayward Pines as he is.
Back home in Seattle, Ethan's wife, Theresa Burke (Shannyn Sossamon), a former Secret Service Agent trainee, gets a call from Ethan's boss, Adam Hassler (Tim Griffin). He informs her that early testing shows Ethan was never in the car that was recovered on the side of the road outside of Wayward Pines. They're still investigating. But this isn't enough for Theresa. Along with their teenage son, Ben (Charlie Tahan), Theresa sets out on her own search for Ethan.
Meanwhile, Ethan is challenged at every turn by the town's die-hard residents and especially the town's sheriff, Sheriff Arnold Pope (Terrence Howard), who takes offense at a Secret Service agent showing up on his turf and telling him what to do. Ethan believes Pope is out of his mind, and visa versa. Ethan's continuing investigation only turns up more and more questions, and each one leads him to the most important question of all: What's wrong with Wayward Pines?