'Star Wars: The Force Awakens' First Order Stormtrooper Origins Partially Revealed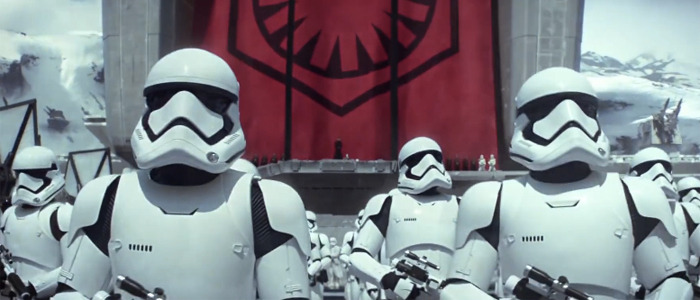 If you haven't been keeping up with Star Wars Bits, then you might have missed that the first action figure from Star Wars: The Force Awakens will arrive next month at San Diego Comic-Con as a convention exclusive.
The first figure from Episode VII will be a 6-inch Black Series First Order Stormtrooper. Some high-resolution shots of the figure have been making the rounds online (we featured them over here), but now it's the packaging that has fans talking. Why? Because it details the history of the Stormtrooper and rise of The First Order, the new evil in the galaxy.
Check out the First Order origins details after the jump!
Eric Goldman from IGN posted the following update on Twitter (via io9):
#SDCC #TheForceAwakens Stormtrooper figure packaging confirms First Order are new on the scene in Episode 7 @starwars pic.twitter.com/YPSD45V2oV

— Eric Goldman (@TheEricGoldman) June 27, 2015
That's one side of the box in which the First Order Stormtrooper action figure will be packaged when it's for sale at Comic-Con in July. Most of it is the history of the Stormtrooper, beginning with the Clone Wars, moving through the fight between the Galactic Empire and the Rebellion and teasing The First Order and "a new era of ruthless brutality."
That brief description of The First Order makes them sound a little more scary than the Empire. However, I'm wondering why The First Order, as a new era, decided to merely update the Stormtrooper image ever so slightly. It feels more like fan service than it is logical within the universe of Star Wars, unless The First Order has a limited budget and couldn't afford all new armor. But the sleek new armor is still pretty cool, and the action figure looks great:
Don't forget, there will be plenty of other Star Wars goods at Comic-Con in July. Not only will there be a panel in Hall H for Star Wars: The Force Awakens, but the first toys from the film will be on display at Hasbro's booth in the convention center (we'll have some images of those for sure). They'll also have an action figure set of Jabba's Rancor Pit available too.
You can be sure Star Wars is going to be huge at Comic-Con, and we'll have a plethora of updates from the convention floor. So if you can't wait for new details on what's in store for the galaxy far, far away, then stay tuned to SlashFilm for all the latest news.