Quentin Tarantino Bringing 'Hateful Eight' To Comic-Con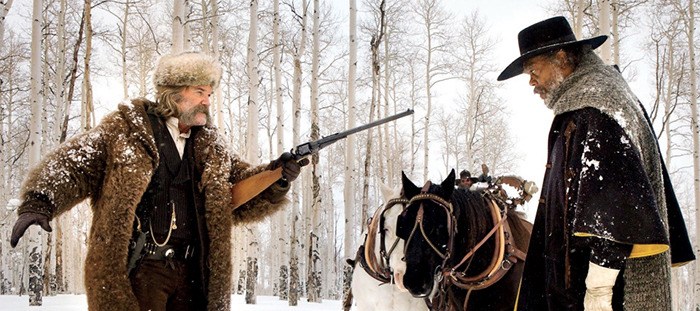 Even though fans may not be able to get a tease of what Marvel Studios has in store for the next few years at San Diego Comic-Con this summer, there's still plenty of good stuff we'll be waiting to get a glimpse at in a couple weeks. Star Wars will be making a huge appearance, and now Quentin Tarantino will be there too.
The Weinstein Company has announced that The Hateful Eight will be coming to Comic-Con this summer with a panel in Hall H. Hit the jump to find out when you can see The Hateful Eight Comic-Con panel to get a sneak peek at Tarantino's western.
Variety reports Quentin Taratino and some of the cast of The Hateful Eight will have a panel in Hall H on Saturday, July 11, at 1:30 pm. The panel will feature a discussion with Tarantino and undisclosed cast members about the production, the roadshow release coming later this year, and of course the 70mm format, which has Tarantino installing several projectors at various theaters around the country.
Nerdist mastermind and @midnight host Chris Hardwick will host the panel that will also feature exclusive footage from the film, far in advance of its debut in 70mm theaters for two weeks beginning on December 25th. After that, the western will get a nationwide theatrical release on January 8th, 2016. Check out the first official photos we've seen from The Hateful Eight right here.
The cast of The Hateful Eight features Tim Roth, Samuel L. Jackson, Jennifer Jason Leigh, Walton Goggins, Demian Bichir, Michael Madsen, Bruce Dern and even a small turn from Channing Tatum. We're not sure which of them will be making an appearance at Comic-Con, but we'll definitely be covering the panel from San Diego in a couple weeks, so stay tuned.
In The Hateful Eight, set six or eight or twelve years after the Civil War, a stagecoach hurtles through the wintry Wyoming landscape. The passengers, bounty hunter John Ruth (Kurt Russell) and his fugitive Daisy Domergue (Jennifer Jason Leigh), race towards the town of Red Rock where Ruth, known in these parts as "The Hangman," will bring Domergue to justice. Along the road, they encounter two strangers: Major Marquis Warren (Samuel L. Jackson), a black former union soldier turned infamous bounty hunter, and Chris Mannix (Walton Goggins), a southern renegade who claims to be the town's new Sheriff. Losing their lead on the blizzard, Ruth, Domergue, Warren and Mannix seek refuge at Minnie's Haberdashery, a stagecoach stopover on a mountain pass. When they arrive at Minnie's, they are greeted not by the proprietor but by four unfamiliar faces. Bob (Demian Bichir), who's taking care of Minnie's while she's visiting her mother, is holed up with Oswaldo Mobray (Tim Roth), the hangman of Red Rock, cow-puncher Joe Gage (Michael Madsen), and Confederate General Sanford Smithers (Bruce Dern). As the storm overtakes the mountainside stopover, our eight travelers come to learn they may not make it to Red Rock after all...