Tyrese Gibson Hints At 'Green Lantern' Comic-Con Announcement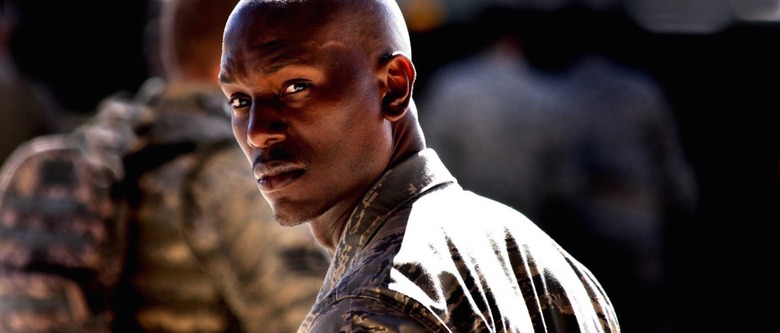 Dreams do come true – or so Tyrese Gibson would like us to believe, anyway. Earlier this year he wished really, really hard for a power ring, and now he's dropping some massive hints about Green Lantern. He's even teasing a potential Comic-Con announcement. More on the Tyrese Green Lantern casting rumors after the jump.
Gibson has not been shy about his desire to play John Stewart in Warner Bros.' DC universe. Now he's being almost as open about his possible casting. Just a few hours ago, he posted a fan image showing himself as Green Lantern John Stewart, alongside Chris Pine as Green Lantern Hal Jordan.
The pic certainly fits with two big rumors that have been going around: one, that Hal Jordan and Jon Stewart will both appear in the Green Lantern reboot, and two, that Pine is playing Hal Jordan. In fact, Gibson coyly addressed the "two Lanterns" rumor a couple of days ago, also on Instagram.
As if that weren't eyebrow-raising enough, Gibson got even more explicit in an E! interview. "I took the oath. I had a meeting at Warner Bros. and certain things were said and talked about," he revealed. Asked about possible Comic-Con plans, he responded, "You never know. I might be there on the other side of an announcement."
However, he stopped short of confirming his casting outright:
You know, listen, there are certain things I can't speak on. But I will say that, however way this works out, it's definitely the fans' fault. I was at home minding my own business and fans start creating these fan-made videos of me as Green Lantern and I looked into it. I've been a fan of the Green Lantern.
Basically, Gibson's come as close as he can to announcing Green Lantern without actually announcing Green Lantern. Either he has some major news he's not allowed to share yet (which is definitely what he wants people to think), or this is a really ballsy play on his part.
Warner Bros. has a Green Lantern movie scheduled for 2020, but the character or characters will likely debut in the two Justice League movies planned for 2017 and 2019.
In the meantime, keep an eye out for our coverage of DC's Comic-Con panel in two weeks. If there's a Tyrese Green Lantern announcement to be made, we'll be all over it.