'Ant-Man' International Trailer Has Loads Of New Footage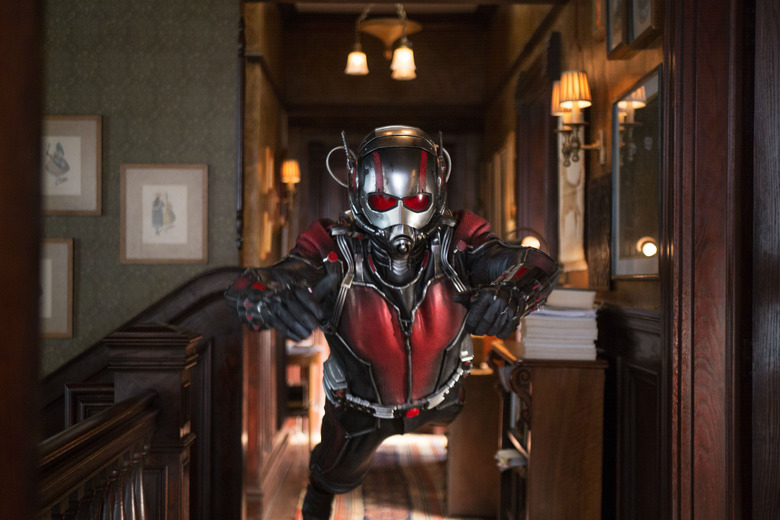 Ant-Man reactions are out in the wild after the first screenings took place this week. Most audiences can't see the film for a couple more weeks, however, so how about a long new Ant-Man international trailer to ease the wait? This one has quite a lot of new footage, including some hero-on-villain battle action, and also a less-heroic moment in which Scott Lang (Paul Rudd) is canned from his job at Baskin-Robbins. 
The main question with this new Ant-Man trailer out of Japan is: how much of the movie do you want to see before you see the movie? Keeping that in mind, be aware that this trailer shows, or strongly hints at, quite a lot. If you want something more restrained, check out the Cross Technologies ad below the trailer.
Ant-Man opens on July 17. Embeds via and Marvel.
Ant-Man stars Paul Rudd (This is 40, They Came Together), Evangeline Lilly ("LOST," The Hobbit: The Battle of the Five Armies) and Michael Douglas (The Game, And So It Goes) and brings a founding member of The Avengers to the big screen for the first time. Armed with the astonishing ability to shrink in scale but increase in strength, master thief Scott Lang (Rudd) must embrace his inner-hero and help his mentor, Dr. Hank Pym (Douglas), protect the secret behind his spectacular Ant-Man suit from a new generation of towering threats. Against seemingly insurmountable obstacles, Pym and Lang must plan and pull off a heist that will save the world.
Also starring are Corey Stoll ("The Strain," "House of Cards"), Judy Greer ("Archer," Dawn of the Planet of the Apes), Martin Donovan (Inherent Vice, Insomnia), Wood Harris (Dredd, Remember the Titans), John Slattery ("Mad Men," Iron Man 2), Gregg Turkington ("Gravity Falls," The Comedy), and Abby Ryder Fortson ("Togetherness," "The Whispers"), Ant-Man features a script by Edgar Wright, Joe Cornish, Paul Rudd and Adam McKay and is directed by Peyton Reed.