'Supergirl' International Promo Reveals A Cool Angle For The Young Hero's Origin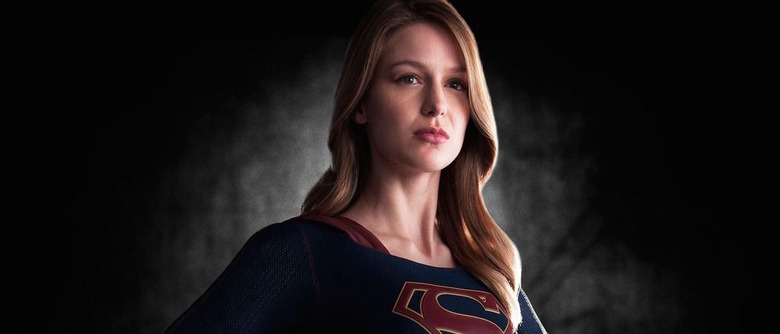 There can be no new superhero show on TV without at least a hint of an origin story, and an origin story for Supergirl means that poor ol' Krypton has to suffer destruction again. So this new Supergirl international promo begins with Krypton blown to bits, but in showing those early days, it also features an explanation of the young Kryptonian's purpose. That purpose is pretty neat, too: she's meant to safeguard her brother as he is sent to Earth, as it turns out.
That makes some of the "hapless girl in the city" stuff from the six-minute preview seem even more wonky and out of place, but also gives the show a neat premise that will hopefully take hold as the show goes on. Check out the new promo below.
Melissa Benoist is the series lead, playing Kara / Supergirl, and is joined by Mehcad Brooks as James Olsen, Laura Benanti as Alura Zor-El, Calista Flockhart as Cat Grant, Chyler Leigh as Alexandra "Alex" Danvers, Jeremy Jordan as Winslow "Winn" Schott, David Harewood as Hank Henshaw, and Dean Cain and Helen Slater.
The pilot episode of Supergirl was written by Ali Adler (No Ordinary Family) and Greg Berlanti (Arrow, The Flash). They will also executive produce along with Sarah Schechter and Warner Bros. TV.
Supergirl airs beginning on October 26. Promo via Global.
In the vast DC Comics Universe of super heroes, the rich mythology of Superman, the planet Krypton and the House of El is perhaps the most famous and instantly recognizable. Enter Supergirl (Melissa Benoist). Born Kara Zor-El on the doomed planet Krypton, the preteen Kara escaped at the same time as the infant Kal-El, but didn't arrive on Earth until many years later after being lost in the Phantom Zone. Protected and raised by her adopted family, the Danvers, Kara grew up in the shadow of her foster sister, Alex, and learned to hide the phenomenal powers she shares with her famous cousin. Years later, at age 24, living in National City and working as an assistant for Catco Worldwide Media mogul Cat Grant (Calista Flockhart), Kara has spent so many years trying to fit in that she forgot to ever stand out. All that changes when she decides to embrace her superhuman abilities and become the hero she was always destined to be.