Chris Pine And Zachary Quinto Signed For 'Star Trek 4'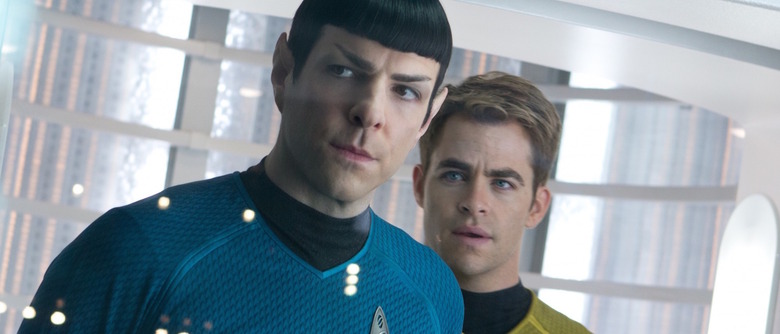 As cameras roll on Star Trek 3, Paramount is looking ahead to Star Trek 4. The studio has reportedly signed leads Chris Pine and Zachary Quinto for the next installment of its sci-fi franchise, which we are just going to assume will be titled Star Trek 4ever until Paramount says otherwise. (Star Trek 4eva would also be acceptable). More details on the Star Trek 4 cast deals after the jump. 
THR reports Pine and Quinto won hefty raises in their renegotiations with Paramount — about $6 million for Pine, according to their sources. In all, the new deals add about $10 to $15 million to Star Trek 3's budget. The two major factors in the cast's pay upgrades are timing and star power.
Back in 2007, Pine, Quinto, and the rest of the cast — including Zoe Saldana, Simon Pegg, Karl Urban, Anton Yelchin, and John Cho – signed on for the first Star Trek reboot with an option for two sequels. The 2009 film performed well enough that Paramount got the cast back together for 2012's Star Trek Into Darkness, albeit with only nominal pay raises.
After Star Trek Into Darkness, though, it took Paramount a while to get Star Trek 3 going. You'll remember Roberto Orci was supposed to write and direct, until Paramount changed course and got Justin Lin to direct from a script written by Pegg and Doug Jung. That delay meant the cast's original deals arguably expired in 2014 under California law. And since several of the stars (notably Pine and Saldana) have become much better known in the intervening years, they were able to score big raises.
The deals don't guarantee a Star Trek 4 will happen. Paramount will see how Star Trek 3 fares before it makes concrete plans for a sequel. The first two Star Trek movies were hits, but not huge ones. 2009's Star Trek grossed $385 million on a budget of $150 million; in comparison, 2007's Transformers cost about the same and raked in $709 million worldwide. Star Trek Into Darkness fared a bit better, making $467 million on a $190 million budget.
Even so, it's good news for fans of the franchise. It's a clear sign Paramount hopes to keep this ship sailing, and a confirmation that the likable cast will stay intact. In the meantime, Star Trek 3, which may or may not be titled Star Trek Beyond, opens July 8, 2016.