VOTD: Feature-Length Look Behind The Scenes Of 'Batman Begins' For 10th Anniversary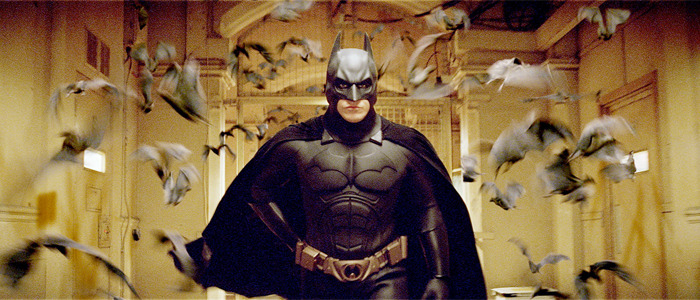 Earlier this month, June 15th marked the 10th anniversary of Batman Begins, the franchise reboot from director Christopher Nolan that launched the most acclaimed film franchise adaptation of The Caped Crusader to date. So what better time is there to dive behind the scenes of the film that gave Gotham the hero it deserves?
A feature-length assembly of special features from the Blu-Ray release of the film is available online to explore various facets of the film at nearly all stages of production, from early development to principal photography and even the final release. Plus, there are some good quotes from Nolan after the jump about how Batman Begins came to be.
Check out the makeshift Batman Begins behind the scenes documentary after the jump!
Thanks to The Film Stage for bringing this great video to our attention:
Earlier this year, Christopher Nolan also talked about how the project ended up falling into his hands, telling THR:
"It came to me in a very interesting way, which was my agent, Dan Aloni, called and said, 'It seems unlikely you'd be interested in this, but Warners is sort of casting around for what they would do with Batman. It had reached the end of its last sort of life, if you'd like. And at the time, nobody used the term 'reboot' — that didn't exist — so it was really a question of, 'What would you do with this?'
I said, 'Well, actually, that is something I'm interested in,' because one of the great films that I am very influenced by that we haven't talked about was Dick Donner's Superman — 1978, that came out. It made a huge impression on me. I can remember the trailers for it, I can remember about Superman the movie, all of that. And it was very clear to me that however brilliant — and it was very brilliant — Tim Burton's take on Batman was in 1989, and it was obviously a worldwide smash, it wasn't that sort of origin story, it wasn't that real-world kind of epic movie; it was very Tim Burton, a very idiosyncratic, gothic kind of masterpiece."
In the years since Nolan tackled The Dark Knight, his success with the films has become both a blessing and a curse for Warner Bros. and DC Entertainment. Nolan sparked new interest in Batman after the hero was absent from the big screen for a little bit, and the superior quality of those comic book films has raised the bar almost insurmountably high for the new version of Batman who will be part of the DC Comics cinematic universe being built with Ben Affleck as the superhero. Fans are still hopeful for something great.
For more from Nolan on Batman Begins, on the film's 10th anniversary, check out THR's full piece on the career of inspiring filmmaker. Stay tuned for more on the future of Batman on the big screen as rumors swirl of Ben Affleck directing his own solo film as The Caped Crusader.
How do you feel about Batman Begins after 10 years? Has it aged well?