James Cameron Wasn't Paid A Cent To Endorse 'Terminator Genisys'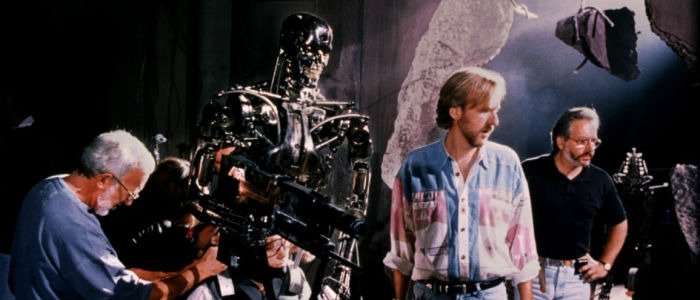 Earlier this month, Paramount Pictures released a video which featured Terminator creator James Cameron praising the hell out of Terminator Genisys, saying that in his mind it is "the third film" in the series. Some cynical fans believe that the Cameron video isn't authentic, believing he either makes money off the new film or was paid for his endorsement. Was the James Cameron Terminator Genisys endorsement paid for? How did the screening happen? Does James Cameron make money off the new sequel? Find out all the details, after the jump.
But the truth is that Cameron lost the Terminator rights in his divorce settlement with Terminator star Linda Hamilton. She promptly sold the rights to Carolco Pictures, and the rights have changed hands since eventually ending up with Skydance Productions and Annapurna Pictures. James Camereon doesn't make any money on the Terminator franchise, and likely won't make a cent on the property until the North American rights revert back to him in 2019.
Cameron has refused to come on board as a producer or director on the last two installments. He's even publicly stated his disappointment with Rise of the Machines and Terminator Salvation. So why was the legendary filmmaker willing to record the endorsement for Terminator Genisys? Was he paid? We asked Skydance Productions CEO David Ellison and Chief Creative Officer Dana Goldberg, and this is what Goldberg had to say about how Cameron came on board:
Can I answer bluntly? ... Seriously, if we're gonna have this conversation, what amount of money does anybody think somebody can offer James Cameron that is going to make a damn bit of difference or to get him to stand up and give an opinion that he doesn't believe in? It actually just boggles my mind, really, like what is that amount? Absolutely not, that is so not the case, the man is not making a dollar off of this movie or because of the comments he's made in support.
So there you have it, Skydance and Paramount did not pay for James Cameron's endorsement and yes, it would be stupid to think there is an amount of money that would sway the tremendously rich Titanic and Avatar director. Here is what Skydance CEO David Ellison had to say about the screening he held for Cameron:
James Cameron is my favorite filmmaker of all time, so when we got the rights to the franchise, I absolutely reached out to Jim out of respect and the dream was to make a movie that he felt belonged in the universe that he created because personally that's what meant everything to me, so I screened the movie for him at his house and he throughout different times would make comments watching the movie where I'd be like 'okay, I think he's actually liking the film.' And for him to come out and say publicly that he thinks the film is the true sequel to Judgment Day and that it actually deserves and belongs in the universe that he created means everything to me, and everything to everybody involved.
You can read my full interview with David Ellison and Dana Goldberg here, and watch the James Cameron Terminator Genisys endorsement video again below: