Skydance Chief Says Of 'Top Gun 2,' "There Is No Top Gun Without Maverick"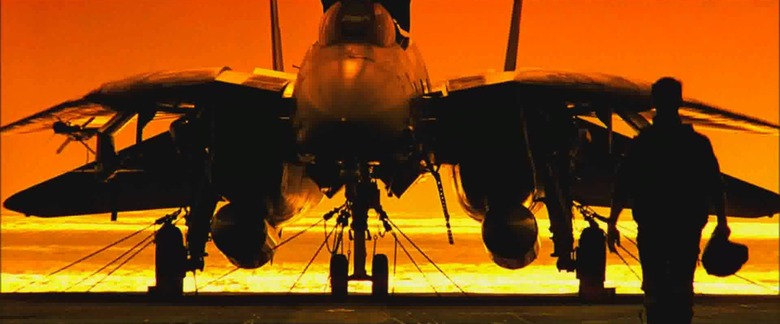 Top Gun, released in 1986, is one of the films that cemented Tom Cruise as a superstar. (It's also one that features more subtle acting than many people give it credit for, as argued here.) In 2010, we learned that Paramount was kicking around ideas for a Top Gun 2. At the time Paramount hoped to land Cruise for a small appearance. Then original director Tony Scott decided to direct, and Cruise's role was said to have grown to lead status. But the 2012 death of Scott stalled Top Gun 2 for years. Even now, it is still in the development stage.
When Peter Sciretta spoke to Skydance Productions CEO David Ellison last week, he talked to the producer/financier about Top Gun 2. The script is coming together, and Ellison promises that "there is no Top Gun without Maverick."
You're a thrill seeker and a pilot. And you have Top Gun 2 on your list, with Tom Cruise. Can you talk a little bit about that?
Absolutely. I started flying aerobatics when I was thirteen years old, actually my dad and I took my first lesson on my thirteenth birthday. By the time I was seventeen, I was flying air shows and have thousands of hours flying surface level aerobatics. I absolutely love it. I've got three hundred skydives, used to sky surf until that put me in the hospital really badly so I thought maybe let's not do that anymore.
I love aviation, and Top Gun definitely fits into the seminal movie [experience] of my childhood. As a pilot, that is really the movie. Justin Marks is writing the screenplay right now. He has a phenomenal take to really update that world for what fighter pilots in the navy have turned into today. There is an amazing role for Maverick in the movie and there is no Top Gun without Maverick. It is going to be Maverick playing Maverick. I don't think it is what people are going to expect, and we are very, very hopeful that we get to make the movie very soon. But like all things, it all comes down to the script, and Justin is writing as we speak.
Marks was hired to write last September. That take, reportedly, involves drones and remote pilots, and a very modern version of aerial warfare while also seeing how the human element — represented by Cruise's character Maverick — remains an essential part of the equation.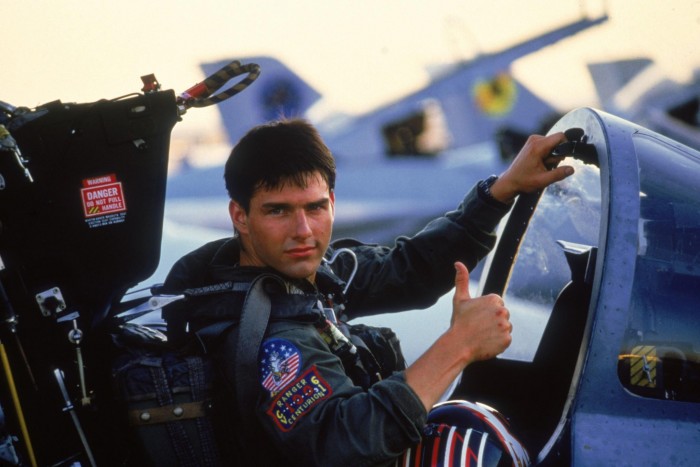 When asked if this sequel would take place 30 years after Top Gun, so that the passage of time in the fictional world mirrors the time between movies in the real world, Ellison said "Absolutely."
Asked if they have been exploring new technology to show the dogfights in a new way, Ellison said he aims to shoot the film practically and release it in 3D and IMAX:
I think this is a movie that should be in 3-D and in IMAX, and again something that you can shoot practically. As everyone knows with Tom, he is 100% going to want to be in those airplanes shooting it practically. When you look at the world of dogfighting, what's interesting about it is that it's not a world that exists to the same degree it did when the original movie came out. This [new] world has not been explored.
It is very much a world we live in today where it's drone technology, and fifth-generation fighters are really what the United States Navy is calling the last man-made fighter that we're actually going to produce. So it's really exploring the end of an era of dogfighting and fighter pilots and what that culture is today. [Those] are all fun things that we're gonna get to dive into in this movie.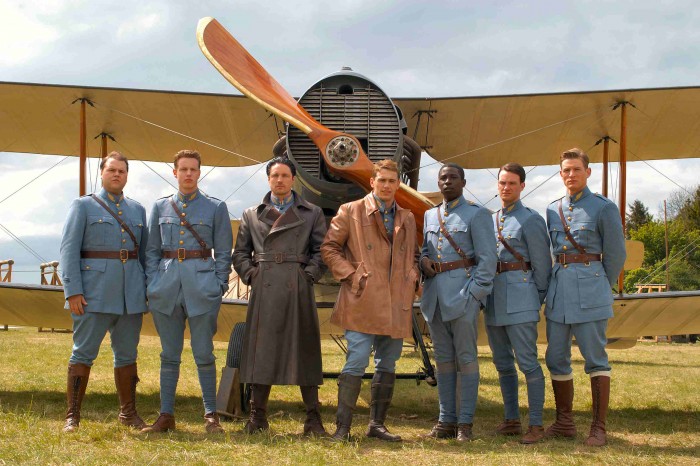 When it was first announced that Skydance would be developing Top Gun 2, it was rumored that David Ellison wanted a role in the film himself. Ellison appeared in the 2006 film Flyboys, about a group of young Americans who volunteered for the French military before the U.S. entered World War I. They became the country's first fighter pilots.
Ellison has also appeared on screen in Hole In One and Little Fish Strange Pond, as was seen on TV in an episode of Leverage. But Ellison told us that he has no interest in being on screen ever again.
Never again [laughs]. Not in a million years.
Not even in Top Gun 2?
Never ever again, nobody could pay me enough. No, never in a million years.