Sequel Bits: 'Furious 8', 'Creed', 'Mission: Impossible', 'Independence Day 2', 'Terminator: Genisys'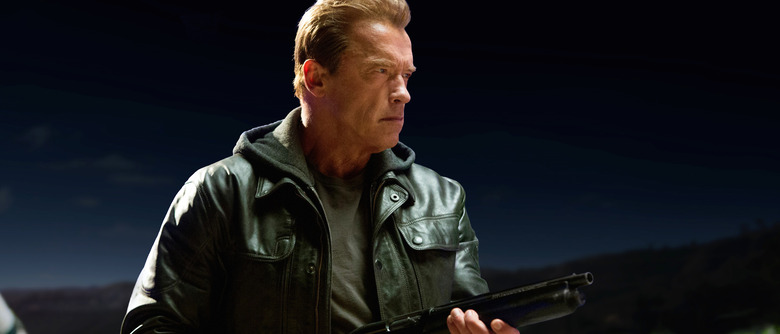 After the jump:
The Chronicles of Narnia 4 script is finally complete
Todd Solondz reveals his Dollhouse semi-sequel cast
Ewan McGregor wants to do a Trainspotting sequel
Vin Diesel wants Helen Mirren for Fast & Furious 8
Here's why Will Smith opted out of Independence Day 2
The Jurassic Park theme shoots to the top of the charts
Jurassic World ties yet another box office record
Sylvester Stallone shares another image from Creed
A new Ted 2 poster pays homage to Flash Gordon
Ethan Hunt assembles his crew in a new M:I5 poster
Arnie is taking the Terminator series one film at a time
Things go boom in Terminator: Genisys B-roll footage
And let's finish off with more Terminator clips and spots
After entering development in 2013, The Chronicles of Narnia: The Silver Chair finally has a script. "Completed the final draft of The Silver Chair today," confirmed screenwriter David Magee on Twitter. "I've had the immense pleasure to work on the project for over a year now. So fulfilling." Which is great news, but I'll be honest: I forgot this project was happening at all. [NarniaWeb via Collider]
***
Todd Solondz has assembled a memorable cast for his Welcome to the Dollhouse semi-sequel Weiner-Dog. Kieran Culkin, Danny DeVito, Brie Larson, Ellen Burstyn, Zosia Mamet, and Tracy Letts have been added to the project. They join Julie Delpy and Greta Gerwig, the latter of whom plays a grown-up Dawn Weiner. [THR]
***
Ewan McGregor is excited for the Trainspotting sequel, because he "missed" working with director Danny Boyle. Unfortunately, he doesn't sound totally certain it's going to happen. "I've never seen a script," he said. "I don't know if it's happening or not happening. But he knows that I would be up for it." [The Playlist]
***
Jason Statham might have some competition for the title of Furious 8's most fearsome Brit. Vin Diesel has heard about Helen Mirren's "great ambition" to do a Fast and Furious movie, and he'd be more than happy to make it a reality. "Of course I would! Who wouldn't? It's Helen," he said. "I love Helen Mirren. Get your act together, Helen! I love you!" [Access Hollywood]
***
If you're bummed Will Smith isn't back for Independence Day 2, you can go ahead and blame After Earth. Roland Emmerich explains: "I wanted to work with him and he was very excited to be in it, but then after a while, you know, he just was tired of sequels and he did another science fiction film, which was his father-son story, so he opted out." [Collider]
***
We already know Jurassic Park is enjoying a record-breaking box office run, but Exhibitor Relations points out another impressive fact about its $106 million second weekend.
With $102M, JURASSIC WORLD becomes just the 2nd film to gross over $100M+ in its 2nd weekend. Total is now $398M.

— Exhibitor Relations Co. (@ERCboxoffice) June 21, 2015
The first film, for the record, was The Avengers in 2012. [Twitter]
***
Oh, and speaking of Jurassic World, it's doing so well it's actually pulled a 22-year-old tune to the top of the music charts. John Williams' Jurassic Park theme has leapt to #1 on Billboard's Classic Digital Songs list. #2 on the list is a cover of that same theme by The Piano Guys. Meanwhile, Michael Giacchino's Jurassic World soundtrack sits at #6 on the Soundtracks list. [Billboard]
***
Proceed to the next page for Mission: Impossible and Ted posters, Terminator: Genisys footage, and more.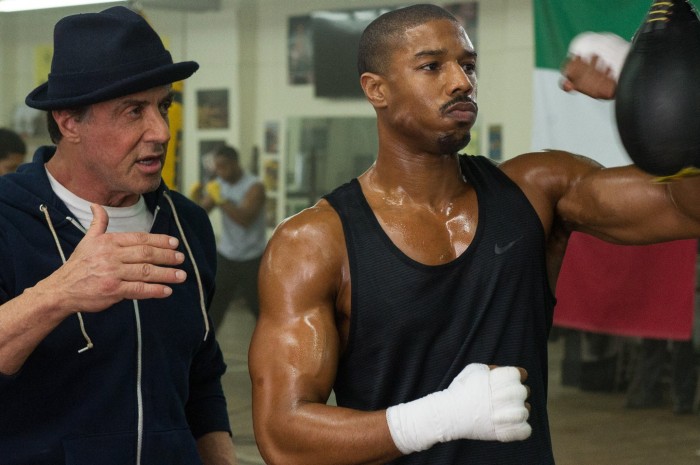 Sylvester Stallone has shared another still from the Rocky spinoff Creed, starring Michael B. Jordan as Adonis Creed. He asks his granddaddy's old rival Rocky to help train him for the ring. Judging by the gleaming musculature on display, it looks like Rocky's doing a pretty good job. [via ComicBook.com]
***
Ted 2 has had a few posters already, but something tells me this Flash Gordon-inspired one is the one Ted himself would love the most.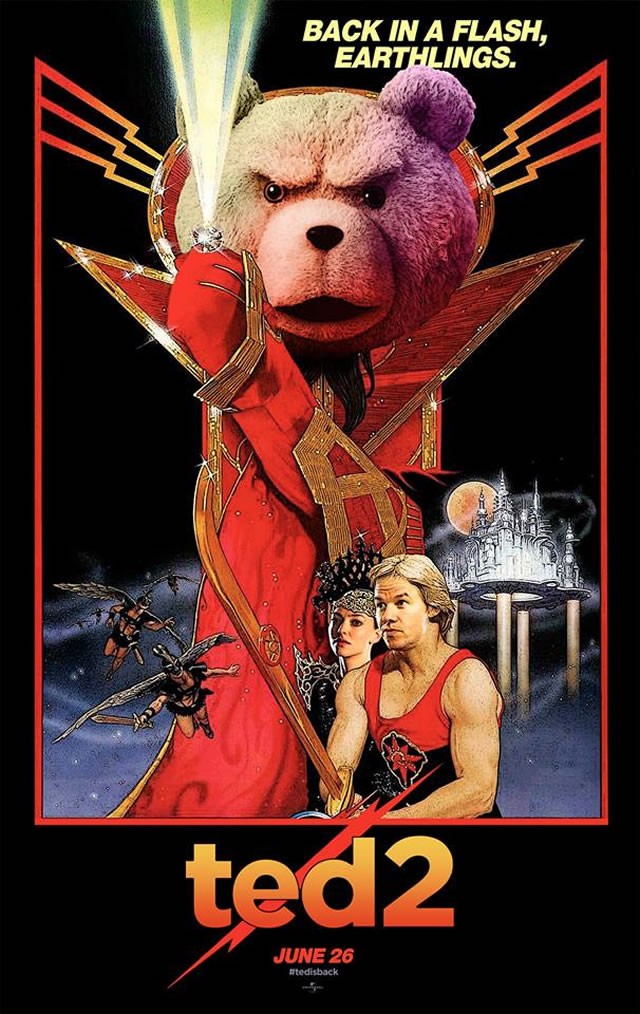 Actual Flash Gordon star Sam J. Jones would probably approve, too. He had a cameo in the first film, and he returns in the sequel. [via Rope of Silicon]
***
The new Mission: Impossible – Rogue Nation shows off the awesome ensemble, which includes Rebecca Ferguson, Jeremy Renner, Simon Pegg, Ving Rhames, and Alec Baldwin.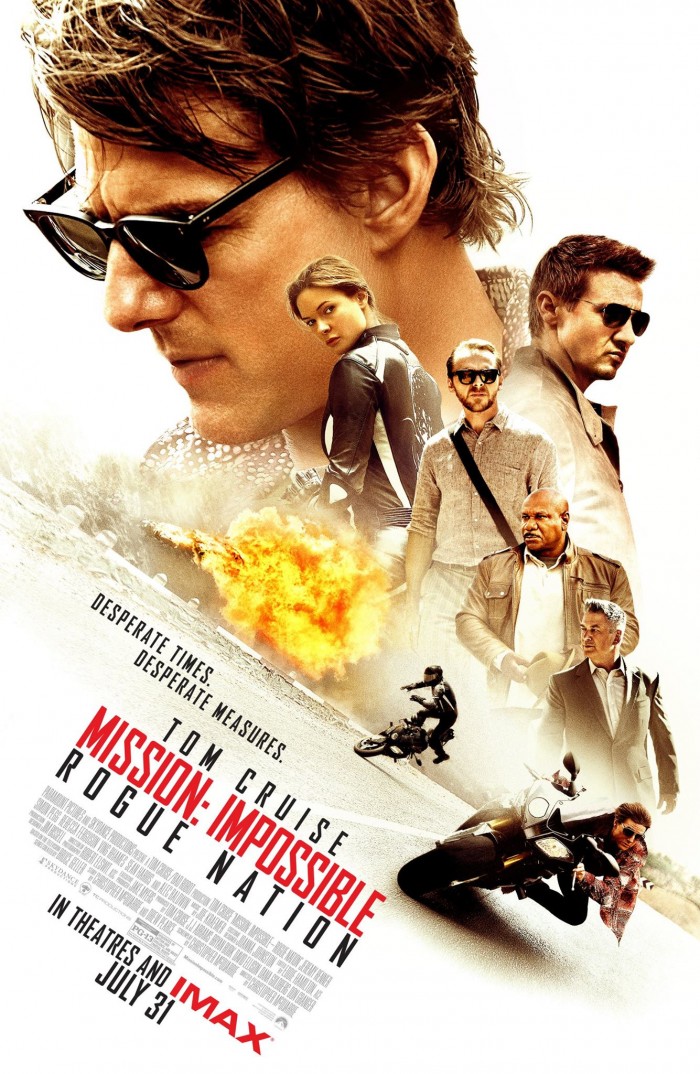 But just so there's no confusion about which one is the star here, Tom Cruise's head is still bigger than the rest of the gang put together. [via Coming Soon]
***
Arnold Schwarzenegger knows Paramount wants Terminator: Genisys to launch a trilogy, but he's taking things one movie at a time. "To me, it's [more] important that the people go and see this movie, that the movie's successful, that it gets good reviews, that people enjoy it, and that the demand of you all creates a desire for us to do another one, rather than to be presumptuous and to say, 'Hey, we're going to do two more,'" he said. [CinemaBlend]
***
In other Terminator: Genisys news, the B-roll for this film looks intense. There are explosions, and gunfire, and Arnie goofing around with a T-800 hand. Be warned there may be spoilers ahead.
[CBR]
***
And now that you've seen some of the Terminator: Genisys behind-the-scenes footage, here's some completed footage from the actual movie. Specifically, from the Arnie-on-Arnie fight scene teased in the promos, complete with the recast version of the character originally played by Bill Paxton.