Cool Stuff: Mondo's Limited Edition Jurassic World Vinyl Soundtrack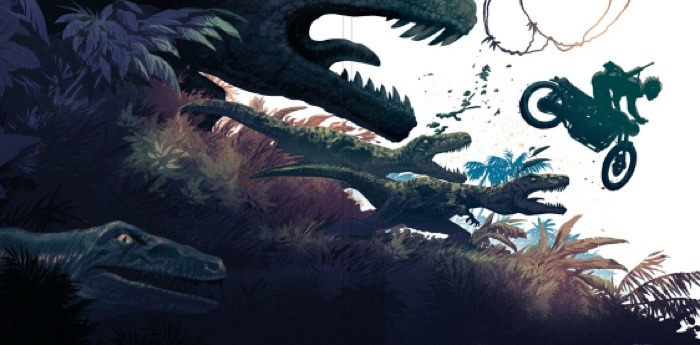 Mondo previously released John Williams' Jurassic Park soundtrack on a beautiful limited edition vinyl release featuring art by JC Richards and Dan McCarthy. Now Mondo have revealed their sequel, a vinyl pressing of Michael Giacchino's Jurassic World score featuring original cover artwork by Stan & Vince. See and learn about the the limited edition Mondo Jurassic World vinyl release after the jump.
Mondo will release the first vinyl pressing of the score to Colin Trevorrow's Jurassic World, featuring music composed by Michael Giacchino, based on themes by John Williams. Mondo's web exclusive version of this 2XLP is pressed on 180 Gram Translucent Green Vinyl with a Blue Stripe in honor of Blue the Raptor, the main raptor in this sequel film. The soundtrack also will be released on Black Vinyl.
Mondo Jurassic World Vinyl Artwork Photos
CinemaBlend premiered this first look at the original art on the Mondo Jurassic World vinyl created by Stan & Vince, including the front, back and album gate artwork:
I prefer the JC Richard artwork from the original Jurassic Park vinyl (I have the screen print poster on my wall), but this art is also pretty good. Here is the track listing from the Mondo Jurassic World vinyl release:
Side A
01. Bury The Hatchling (1:56)
02. The Family That Strays Together (1:00)
03. Welcome To Jurassic World (2:08)
04. As The Jurassic World Turns (5:30)
05. Clearly His First Rodeo (3:28)
06. Owen You Nothing (1:19)
07. Indominus Wrecks (6:11)
Side B
08. Gyrosphere Of Influence (3:14)
09. Pavane For A Dead Apatosaurus (4:44)
10. Fits And Jumpstarts (1:31)
11. The Dimorphodon Shuffle (2:13)
12. Love In The Time Of Pterosauria (4:30)
Side C
13. Chasing The Dragons (2:54)
14. Raptor Your Heart Out (3:50)
15. Costa Rican Standoff (4:37)
16. Our Rex Is Bigger Than Yours (2:41) 17. Growl And Make Up (1:16)
18. Nine To Survival Job (2:33)
19. The Park Is Closed (1:38)
Side D
20. Jurassic World Suite (12:53)
21. It's A Small Jurassic World (1:43)
22. The Hammond Lab Overture (1:07)
23. The Brockway Monorail (1:45)
24. Sunrise O'er Jurassic World (2:06)
The Mondo Jurassic World vinyl album will go up for on Friday June 26th 2015 on MondoTees.com, with an expected ship date of September 2015.