'Sleeping With Other People' Trailer: Alison Brie And Jason Sudeikis Are Just Friends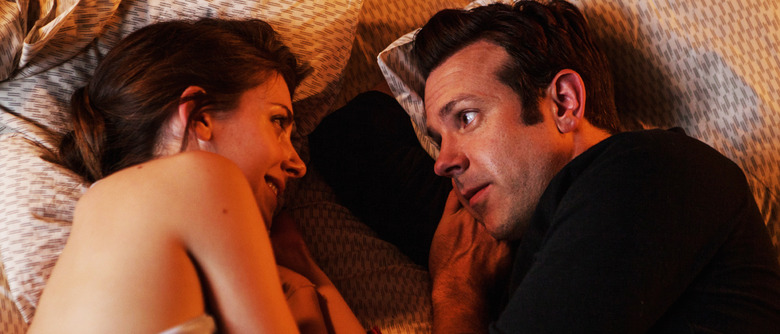 IFC Films has released the first trailer for Sleeping With Other People, director Leslye Hedland's follow-up to her 2012 indie hit Bachelorette. This one stars Jason Sudeikis and Alison Brie as two former hookups who reconnect after twelve years. Seeing as they're both terrible at relationships, they pledge to stay just friends. However, it becomes increasingly difficult to deny the attraction between them.
In other words, Sleeping With Other People is basically When Harry Met Sally... for a**holes. Which is not an insult, by the way — that's how Hedland herself describes the movie. And really, as great as that romcom classic still is, it's about time we got a 21st century update. Watch the Sleeping With Other People trailer after the jump.
IFC posted the Sleeping With Other People trailer on YouTube.
I caught this one at Tribeca, and it's really pretty great. It's funny as hell, with a fantastic supporting cast that also includes Adam Scott, Amanda Peet, Natasha Lyonne, and Jason Mantzoukas. But it's achingly tender, too, and very sharp about the risks and rewards of modern-day sex and romance. Most important of all, Sudeikis and Brie have fantastic romcom chemistry – relaxed, sweet, and kind of sexy.
Catch Sleeping With Other People in theaters August 21, 2015.
Can two serial cheaters get a second chance at love? After a one-night stand in college, New Yorkers Lainey (Alison Brie) and Jake (Jason Sudeikis) meet by chance twelve years later and discover they each have the same problem: because of their monogamy-challenged ways, neither can maintain a relationship. Determined to stay friends despite their mutual attraction, they make a pact to keep it platonic, a deal that proves easier said than done. Fresh, funny, and full of witty insights about modern love, this hilariously heartfelt film "is the rare rom-com that reminds us why we love them so much in the first place" (Time Out New York). Amanda Peet, Adam Scott, Natasha Lyonne, and Jason Mantzoukas co-star.