Emma Watson Confirmed To Join Tom Hanks In 'The Circle'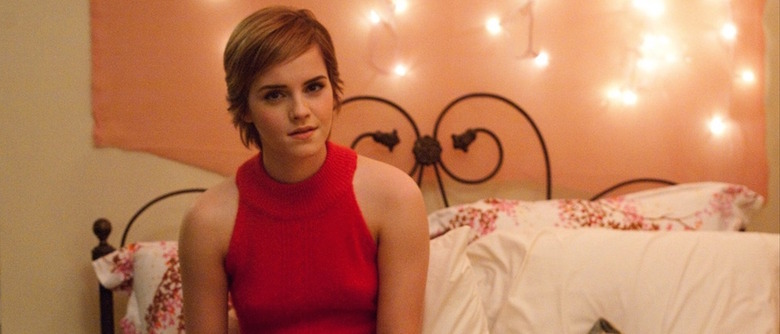 Beauty and the Beast star Emma Watson will follow fairy-tale fantasy with a high-tech thriller. She's just been confirmed to star in The Circle, James Ponsoldt's adaptation of Dave Eggers' novel. Tom Hanks also stars. Get details on the Emma Watson The Circle casting after the jump.
Watson will lead the cast as Mae, who works for a cutting-edge tech company called the Circle. Hanks plays the Circle's charismatic co-owner. The company links together users' email, social media, banking, and retail accounts to create a single online identity.
Their purpose supposedly makes the Internet a simpler, more transparent place, but Mae starts to see the dark side of their work. The Circle examines our digital culture and the questions of privacy, security, democracy, and humanity that come with it.
Ponsoldt gushed about his new star to Variety. "Emma Watson is one of my favorite actors, and her incredible talent, sensitivity and deep intelligence will bring an electric energy to The Circle," he said.
Watson replaces Alicia Vikander, who was attached to the project several weeks ago. Vikander decided to drop out when Bourne 5 and Assassin's Creed came calling, and The Circle quickly started closing in on Watson.
The Circle had been in development for several months before that. Hanks signed on to co-star in December. He'll additionally produce with Playtone partner Gary Goetzman, plus Anthony Bregman (Foxcatcher), Walter Parkes and Laurie MacDonald (Flight).
Watson is probably still best known for her role in the Harry Potter films, but she's done quite well for herself since the end of that series. She's had big roles in The Perks of Being a Wallflower, The Bling Ring, and Noah, and will next appear in the thrillers Regression and Colonia. Currently she is shooting Beauty and the Beast, which opens March 17, 2017.
Ponsoldt scripted The Circle adaptation himself and plans to shoot this September in California.