'Furious 8': Jason Statham Confirmed To Return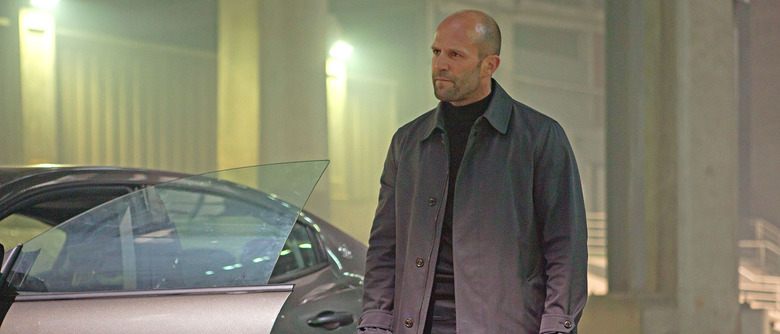 Dom Toretto's "family" will surely be back for Furious 8, but it looks like one of his foes will as well. Furious 7 villain Jason Statham has confirmed he'll be back for the next installment of the high-octane franchise, along with Vin Diesel and Dwayne Johnson. Get the Furious 8 Jason Statham casting announcement after the jump. 
Statham announced his return for Furious 8 in an interview on Access Hollywood:
We're already talking about doing another one, Part 8. I'm a newcomer, I just got invited to the party in this last one, so it's nice to know I'm going to be doing another.
The bald British badass debuted as Deckard Shaw in a brief cameo at the end of Fast and Furious 6. He then returned in Furious 7 as the main antagonist, facing off with both Hobbs (Johnson) and Toretto (Diesel). The last we saw of him, he was (spoiler alert!) being locked away in a high-security prison. But he was still very much alive, which means it shouldn't be too difficult to work him back into the story.
Furious 8 is expected to move the excitement to New York. Which is famously not a driving city, but I suppose destroying the Big Apple is a sort of rite of passage for big action franchises. Diesel, Johnson, and now Statham are the only cast members definitely returning, though Diesel has also hinted that Kurt Russell would be back as covert operative Frank Petty.
The Fast and Furious franchise suffered a huge blow when Paul Walker passed away during the shooting of Furious 7. While no one will ever replace him, the filmmakers deserve lots of credit for figuring out a way to give Walker a proper sendoff while also forging ahead without him.
Indeed, Furious 7 turned out to be the series' biggest installment yet. It's currently the fourth highest-grossing movie of all time, with a $1.5 billion take, and was the fastest film ever to reach $1 billion until Jurassic World broke that record earlier this week.
Furious 8 lands in theaters April 14, 2017.